Huppert accused of breaching privacy guidelines
Unsolicited emails to students represent a potential breach of the Data Protection Act 1998, say Labour student campaigners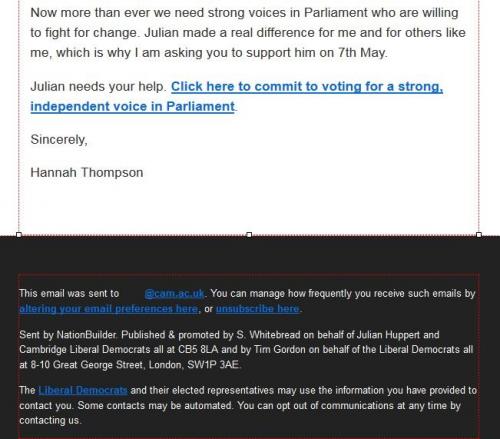 Allegations emerged last night that Liberal Democrat parliamentary candidate for Cambridge Julian Huppert and his team have sent out unsolicited promotional emails to students' @cam.ac.uk Hermes addresses.
Such unsolicited email communications are argued to be illegal under data privacy law, potentially putting Huppert's campaign in breach of election guidelines.
Varsity has obtained an email purportedly sent to students across Cambridge entitled "I felt completely helpless", which recounts campaigner Hannah Thompson's experiences as the victim of a so-called "revenge porn" attack.
Tom Wilson, Campaigns Officer for the Cambridge Universities Labour Club (CULC), took to Twitter to describe the communications as "crass"; others described the emails as "manipulative" and "completely unwelcome".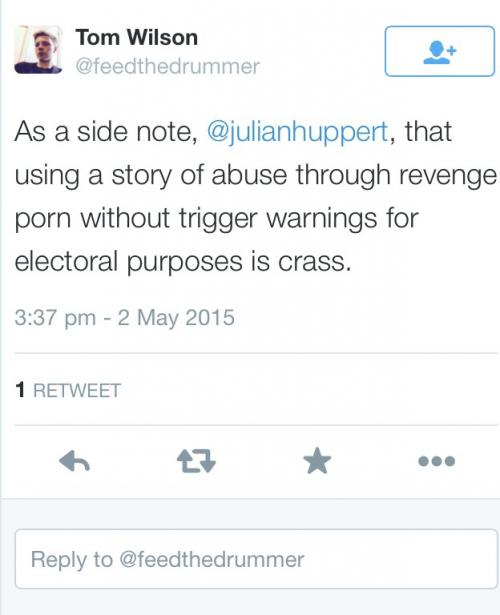 CULC alleges that the email was sent to the semi-public mailing list available through the University lookup service. This, if true, would represent a breach of guidelines from the Information Commissioner, which require that parties receive direct, specific consent (pages 10-24) from email marketing recipients before sending such messages.
The enforcement powers of the Information Commissioner activate in the event of a breach, and may include audits, monetary penalties and prosecution, though the practices complained of do not represent a breach of the Representation of the People Act. A similar incident in Bath last month elicited an apology from the party and an assurance that they would donate a proportion of the money raised from the unsolicited emails to charity.
This is the second report of legal complaint being made against Huppert during the electoral campaign ahead of 7th May. Last month, Varsity reported that the Conservative parliamentary candidate, Chamali Fernando, was considering suing Huppert for defamation for his comments in the wake of the wristband scandal. The future of Ms Fernando's action remains unclear, but a spokesperson for her campaign confirmed to Varsity that she is still taking advice on future legal action.
A spokesperson for CULC told Varsity: "Several students have brought to our attention multiple emails sent to their Hermes accounts from the Cambridge Liberal Democrats on behalf of Julian Huppert, without their consent, breaking Electoral Commission guidelines [sic] and bringing into question serious data protection issues.
"Not only this, but one of the emails contain tasteless material about a personal account of revenge porn, despite containing no trigger warnings, for electoral purposes. Many students have found this upsetting and are rightly questioning how the Liberal Democrats gained access to their emails.

"CULC echoes these concerns, and hopes that Julian and the Liberal Democrats will apologise to any students who felt that they received emails they did not consent to containing material they were not comfortable with.
"We also call on the Liberal Democrats for clarification about how such emails were obtained, and why these emails were sent in the first place considering another Liberal Democrat group in Bath was criticised for doing the same thing just a few weeks ago, something they must have been aware of."
A spokesperson for Cambridge Liberal Democrats released a statement to Varsity: "We have sent a number of emails to students over the last two years to keep them informed of Julian's activities. All of these have included the appropriate opt-outs.
"We take the issue of data protection and privacy seriously. We apologise to anyone who feels that they have received an email from us that they did not wish to and will very happily remove their details from our database.
"We will, of course, act on the individual cases that have already been drawn to our attention."