Stephen Fry at the Union
Comedian Stephen Fry draws laughter at the Cambridge Union, but loses the debate on disestablishment of the Church of England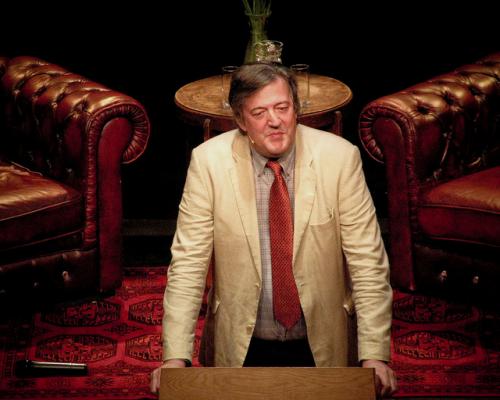 Stephen Fry attracted crowds of students at the Cambridge Union last night as one of the opposition speakers in a debate about the separation of church and state in the United Kingdom. Arguing alongside Colin Bloom and Tim Stevens, Bishop of Leicester, the prolific comedian and actor opposed the motion 'This House Would Disestablish the Church of England'. 
Fry, who opened the case for the opposition bench, quipped: "I want to be able to go to my grave and say that I have once spoken antidisestablishmentarianistically." He continued in a humorous fashion, describing the Church of England as "fun and sweet", "the good old hippopotamus" and "a fantastic nonsense", whilst defending its establishment to the government of the UK.
Peter Hitchens, who was due to speak on the same side as Fry, pulled out of the debate less than two weeks ago, telling Varsity that Fry would trivialise the issue by describing the Church of England as "picturesque", or saying that "it's harmless frippery.'"
Stephen Fry, who identifies as a humanist and atheist, has in the past been critical of the link between state and church, notably in his opposition to Pope Benedict XVI's trip to the United Kingdom being treated as a state visit, in 2010.
With one minute of his speech still remaining, Fry admitted that there was "not much more to say really" and that he would not really mind which way the vote went. Later on in the debate, he declared: "I may be wrong and I may end up crossing the floor, but I'm having a good time."
The proposition, which won with 60 per cent of votes in the chamber, played on references to Fry's Jeeves and Wooster comedy duo with fellow Footlight Hugh Laurie: "The role of the church is not to be Jeeves to the government".
Andrew Copson, Chief Executive of the Humanist Society, described the establishment of the Church of England as an "exercise of disproportionate and invisible power", "incompatible with an open, free and democratic society" and pointed out that "75 per cent of people in the country don't believe in God or Jesus." Opposition speaker, The Right Reverend Tim Stevens, challenged his statistics as being on "very, very shaky ground", considering the Church of England's weekly drawing capacity of one million people to mass.
Colin Bloom, Chief Executive of the Conservative Christian Fellowship, accused the proposition of being "secret Republicans" who would "cheerfully strangle the last monarch with the guts of the last bishop". In response, Nia Griffith, Shadow Minister for Wales, asserted that disestablishment was "not necessarily the Revolution but it would put right an enormous anomaly."
References were made throughout the debate to Stephen Fry's recent marriage to Elliott Spencer, and the Union committee presented him with a wedding cake to close the evening.