Laura Bates at the Union
Speak up against sexism, Bates urged students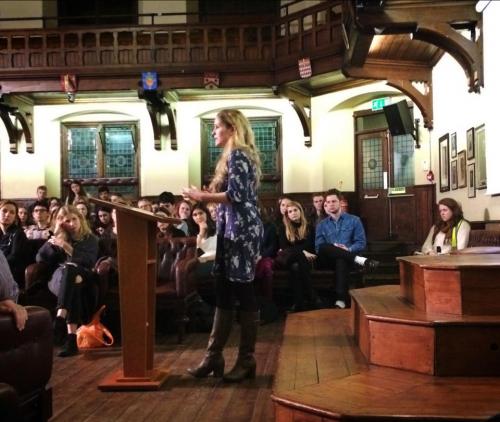 "They said, just as I went into the casting, "Oh by the way, you're taking your top off now.""

Cambridge University Women in Leadership Society continued their programme of Michaelmas events with Laura Bates speaking at the Union on yesterday. She spoke to a nearly full, almost exclusively female, audience.
When she founded the Everyday Sexism project, Cambridge grad Laura Bates initially meant to collect a few accounts of experiences of gender inequality, but in the last three years the website has received over 80,000 submissions, and grown into an international project.
It has become a central feature in the newest wave of feminism, as visible proof that sexism is both insidious and all-pervading. Bates spoke charismatically and compellingly to a nearly-full chamber, weaving her personal journey of experience, realisation and eventual action, together with the cultural context from which it grew. Unaided by notes, she rattled off strings of grim but hard-hitting statistics to knock down arguments she'd faced, reminding us that not only are only 7 of 38 UK Court of Appeal judges female, but it's been 13 years since a woman choreographed a show for the main space at the Royal Opera House; these discrepancies aren't limited to the 'male' dominated careers.
Alongside facts came illustrative submissions to Everyday Sexism, especially highlighting their intersectionality – from schoolgirls enduring assault on tube journeys to women in wheelchairs shouted at for bad driving, to trans women followed into loos and assaulted.  Although time didn't allow for a more in-depth exploration of feminist issues, Bates fielded questions from the floor including, "how valuable is comedy in answering back to harassment?" and "what do you make of rape as a weapon of war?", and finally what we're all wondering: 'can you be a feminist and still go on swaps?' (the answer was yes, but speak up when you can) The applause went on for long enough for her to get a little embarrassed, and the queue for book signings filled the entrance hall.