Varsity Profile
Chris Bagstaff
A recognisable figure in Cambridge, Chris Bagstaff, 36, spends many of his evenings riding round Cambridge on his bicycle, playing music from his Sony cassette walkman and amplifier speakers, which he keeps in a plastic bag hung on his handlebars.
His activities have led, perhaps inevitably, to a considerable accumulation of student apocrypha. Mr Bagstaff is known to some students as Crackly Radio Bike Man, the Cambridge Legend and Rage. Theories abound as to the purpose of Chris' cycling.
Some have suggested that his music is a protest and that he wants to bring anarchy back to the streets.
Others claim that he never stops cycling. One of the stranger notions is that he acts as a roving, interest-free change bank for the city's homeless community, while it has even been suggested that he is aggressive and should not be approached.
Toby Parnell, the creator of a six-hundredstrong Facebook group dedicated to Chris, said that "generations of undergraduates
have been fascinated by his mysterious ways and his very unique taste in music".
Mr Bagstaff himself explained that he cycles around "picking up leaflets and making enquiries about jobs. I play the music for a kind of release. I like to play music to suit my mood. If I'm angry, the music will be angry too."
He is originally from the village of Orwell in Hertfordshire, and lived with a foster family until he was twenty eight, at which point he moved to Cambridge to live in a fl at in the village of North Arbury. He has worked as a kitchen porter at Brown's restaurant and told Varsity that he is currently looking for a similar job.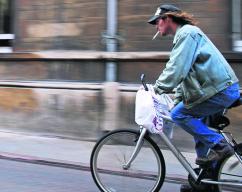 When Varsity interviewed Mr Bagstaff, he was wearing a Marilyn Manson t-shirt, one of his favourite artists along with Black Sabbath, Wasps, Crimson Idol and Man 'O War. He picks out Sick Love Song by Motley Crew as one of his favourite songs, a track his Italian girlfriend Lemeira introduced him to. He says that he hopes they will get engaged in the near future.
Chris attends an adult education course at C-Tech. He says: "I enjoy it and have made a few friends there." He spends many of his evenings, and particularly Saturdays, cycling around Cambridge. "I don't have a particular route, I just know my way around."