Student think-tank tackles Ebola issues
Polygeia explores how social media and gender affect Ebola's spread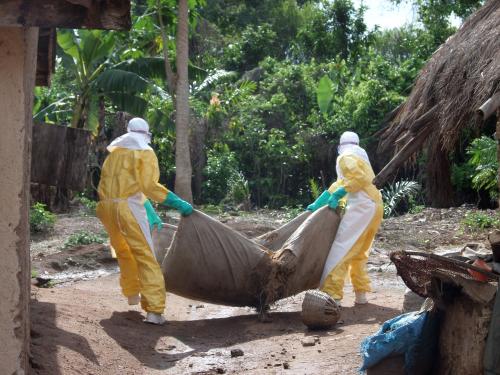 As the worst Ebola outbreak in human history continues to ravage West Africa, a new student-run global health policy think-tank is at the forefront of exploring the unexpected implications of the disease.
Polygeia is a Cambridge-based organisation that aims to encourage policy research on global health issues. One such issue is social media. Alex Jones, a graduate medic, suggests that online platforms can be either a help or a hindrance in the fight against Ebola.
He notes in an article for Polygeia, Information sharing in the Ebola Crisis – Lessons in Social Media, that the sheer volume of information and conjecture available on the internet means information "can become obscured, inaccurate and lack credibility".
Jones also highlights how Facebook and Twitter can spread harmful inaccuracies. A Nigerian Pentecostal preacher, for example, "suggested on Facebook that Jesus would stop the spread of the virus into Nigeria".
When used correctly, however, social media can provide an effective source of medical information, with respected bodies such as the World Health Organisation harnessing these networks to disseminate advice and combat myths.
Student researcher Cassandra Fairhead has also drawn attention to a relatively unreported aspect of the Ebola epidemic: the high mortality rate among women who contract the disease, who comprise 55-74 per cent of recent Ebola deaths. In her article, Ebola: a disease that discriminates, Fairhead suggests this is partly due to the prominence of women in healthcare in the worst-affected countries, Sierra Leone and Liberia.
This is a sentiment echoed by Marpue Spear, the Executive Director of the Women's NGO Secretariat of Liberia. Speaking to Foreign Policy magazine, she said: "If a man is sick, the woman can easily bathe him but the man cannot do so...traditionally, women will take care of the men as compared to them taking care of the women."
The current Ebola outbreak in West Africa has killed over 4,000 people, with isolated new cases being diagnosed in the US and Spain, and world transport hubs introducing screening measures against the disease. It emerged this week that a nurse in the United States was allowed to board a plane from Cleveland, Ohio to Dallas, Texas, despite showing early signs of the disease; she was later diagnosed with Ebola.
The UK is also preparing for an Ebola outbreak, as many Brits are involved in efforts to tackle the spread of the disease. Health Secretary Jeremy Hunt said yesterday: "I think we will see someone with ebola arriving in the UK, and the chief medical officer thinks it will be a handful of cases in the next three months.
"We have to be prepared, we have very strict procedures. We have to make sure everyone knows about the right procedures."
British army medics are due to arrive in Sierra Leone this month to help in the fight against the epidemic: a team of 91 doctors, nurses and infectious disease consultants will join the 40 soldiers who are already working there.
This is, however, not the deadliest epidemic of Ebola that the world has seen. Polygeia press officer and researcher Anastasia Bow-Betrand, a Wolfson student, notes that its mortality rate is 53.8 per cent; she points out that the deadliest outbreak was the 1976 epidemic, with a mortality rate of 88 per cent.
Polygeia, founded by medical students Hari Jeyabelen and Gabriel Lambert, aims "to give students the opportunity to contribute to global health policy".
Its name derives from the Greek proverb "Poli Ygeia", which roughly translates as a wish for good health.
Polygeia describe their society as being "driven by our wish to contribute to the establishment of equitable access of excellent health across the globe".
Its activities include research, policy workshops, mentoring programmes and seminars. While Polygeia has the support of Cambridge academics, its researchers are all students or recent graduates, from first-year undergraduate level upwards. Many of the students involved are medics or scientists, but there is still a wide spread of disciplines in represented in the organisation.
Polygeia will hold its inaugural conference at St John's on November 15th. It will feature speakers and workshops addressing such themes as antimicrobial drugs, neglected tropical diseases and mental health.
The think tank hopes the conference "will set the scene for a wide-reaching Polygeia community, with university branches opening nationwide". Tickets are available at www.polygeia.com.