Cambridge's Disciplinary Procedure
88% of sexual assaults unreported
2,126 students responded to the survey conducted by Varsity and CUSU Women's Campaign examining students' experience of sexual harassment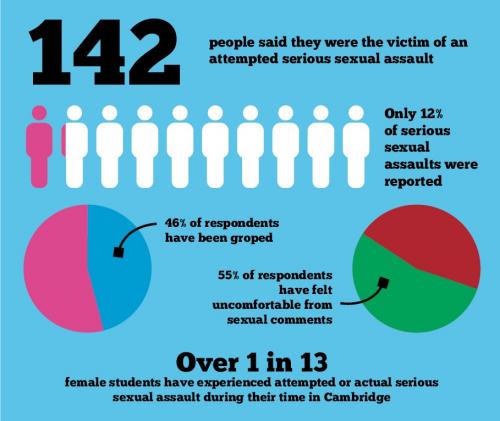 A joint survey conducted by Varsity and the CUSU Women's campaign has revealed the extent of sexual assault and harassment experienced by Cambridge students.
Almost half of the respondents reported that they have been "groped, pinched, or touched" while a student at Cambridge.
8.4 per cent of female respondents said they have experienced attempted serious sexual assault, which was defined as an attempt to penetrate someone orally, vaginally or anally with genitalia, fingers or an object.
The survey, which received over 2,100 responses, found that 4.4 per cent of female respondents and 1.5 per cent of male respondents have experienced serious sexual assault. 88 per cent of all genders went on to say that they did not report the incident. Only two of these students reported the incident to the police, while 10 students reported the incident to staff or students with an official welfare role in their college. The majority of these incidents took place in the student's college.
Of the recorded incidents of attempted serious sexual assault, 98 per cent went unreported. The most common reasons given for students not reporting sexual assault or attempted sexual assault included thinking that they would not be believed or feeling ashamed of what had happened.
Catherine*, who was sexually assaulted by a friend at her college last year, said: "I was told I have a responsibility to report my rape for the sake of future victims but there are a number of reasons why I didn't. I obviously want to protect others but there is no way of doing that without exposing myself to possible physical, mental and emotional danger.
"I also have no reason to believe that my report will be taken seriously, be investigated or result in a conviction. On the contrary I have every reason to believe that he would be acquitted."
55 per cent said that they had been made to feel uncomfortable by comments of a sexual nature. One student said that while groping was common in clubs, comments of a sexual overtone were a problem even when jogging in the daytime. Another was made uncomfortable by comments about their sexuality in the context of "banter".
One female student, Alice*, said that Cambridge can be a hostile environment in which to deal with the consequences of serious sexual assault. She was assaulted last year during the break after her first term at Cambridge, and said she is only now coming to terms with what happened to her. She described a widespread "lad culture" among students at the University, insensitive to sexual violence.
When she returned to Cambridge the following term, she had not told anyone about the incident. "At the time I had a strong fear I wouldn't be believed or I would be blamed for what had happened. I didn't feel I could tell anyone at Cambridge. Three weeks after I was assaulted, I was present when someone I knew from college made a rape joke," she says.
"There is a privileged lad culture in Cambridge that doesn't take sexual harassment and sexual assault seriously. They can make jokes because it's not something they're directly affected by; they don't think sexual violence has anything to do with them or their friends, yet [...] they are likely to know someone affected."
One in 10 students said they had been intrusively followed, watched or had received obsessive messages or phone calls. Most perpetrators in such cases were fellow students, with the majority of incidents taking place within college.
A spokesman for the University said: "The collegiate University is committed to the welfare and safety of all its members, and expects all members of its community to treat each other with respect and consideration at all times, and to act within the law.
"Where behaviour falls short of this expectation, there are well-established reporting procedures for both staff (Dignity@Work) and students (Dignity@Study). Criminal behaviour should be reported to the police".
Last term, sexual harassment policies across the University came under criticism from the Cambridge Rape Crisis Centre for insensitive wording and lack of clarity.
The University spokesman added: "The health and wellbeing committee is currently examining the impact of rape and sexual assaults on students in Cambridge.
"Its members have been meeting with student representatives and internal and external parties working in this area. They will also take into consideration the findings of the recent survey."
CUSU Women's Officer Lauren Steele said: "An incident of sexual harassment, assault, stalking or physical violence can have devastating effects on the individual, impacting on their ability to study and learn, their mental health, and their relationships."
"The University and colleges have a responsibility to provide support and care for their students. The Women's Campaign will continue to work with Women's Officers and JCRs to implement compulsory consent workshops in September for incoming freshers."
*Names have been changed to protect identities
--
There are many support services available if you have been affected by any of the issues raised in this articles:
Linkline - 01223 744444
Samaritans - 08457 909090, 4 Emmanuel Road
Black Women's Support Group - 01223 369753
University Counselling Service - 01223 332865
Cambridge Rape Crisis Centre - 01223 245888
London Rape Crisis - 0808 802 9999
--
You can read Catherine's story here
Content warning: this testimony includes description of a violent sexual assault that readers may find distressing