The Canterbury Tales: the remix
Head of the English faculty claims Chaucer would be "proud" of rap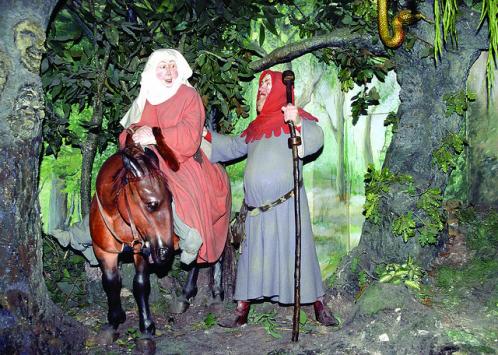 The well-known and often salacious work of 14th century poet Geoffrey Chaucer, The Canterbury Tales, will be given a new edge in April this year.
A "21st century remix" of the work has been devised by the London-born award-winning poet and performer Patience Agbabi, who read English at Pembroke College, Oxford.
Telling Tales, Agbabi's most recent offering, was first performed at the British Library's Pilgrimage exhibition in 2011.
The collection features fresh takes on many of the iconic characters from the Canterbury Tales, such as the drunken Miller of the original being translated into a modern-day 'ladette' and a rapping Parson.
The introduction to Telling Tales incorporates modern language linked with rap music and slang:
"Tabard Inn to Canterb'ry Cathedral, / Poet pilgrims competing for free picks, / Chaucer Tales, track by track, it's the remix / From below-the-belt base to the topnotch, / I won't stop all the clocks with a stopwatch / when the tales overrun, run offensive, / or run clean out of steam, they're authentic / and we're keeping it real, reminisce this: / Chaucer Tales were an unfinished business."
Helen Cooper, professor of Medieval and Renaissance English at Magdalene College, Cambridge, has written several publications on the works of Chaucer, and is enthusiastic about Agbabi's poetry.
In the blurb for the forthcoming printed version of Agbabi's work, Professor Cooper remarked that she thought Chaucer would have most likely been "proud" of the work that his writing had inspired.
This sentiment is echoed by Agbabi herself, who claimed that whenever she hesitated she "re-read the original text and imagined Chaucer winking at me, saying, 'go girl'".
Speaking about her impressions of Agbabi's fresh interpretation, Professor Cooper praised it for "its liveliness, its innovativeness, and its poetic qualities."
She added that Agbabi has retained the magic of Chaucer's original Tales, "some light-hearted, some very moving", while using a variety of complex verse forms which reflect her more modern literary influences.
"Agbabi offers a wonderful range of styles: not just rap, but a good number of highly complex verse forms that deploy her training in English literature.
"She's formidably intelligent, too, though she wears that very lightly", Professor Cooper said.
The enthusiastic reception of Agbabi's 'remix' of Chaucer has not been shared by all of the Cambridge student community.
Naomi Pyburn, an English student from Homerton College, commented that Telling Tales seemed "a bit off-beat and crazy, but I guess anything that draws young people to classic literature can only be a good thing.
"[I'm] not too sure whether Chaucer would be egging her on with a wink if he knew about it, but she's got lady-balls, I'll give her that!"