Mill Road shopkeeper to take on Lord Sainsbury for Chancellorship
Owner of Al-Amin Stores pledges to stand for Chancellor in protest against Sainsbury's Cambridge dominance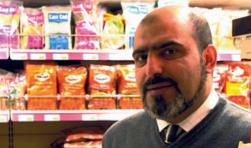 Abdul Arain, owner of Mill Road's Al-Amin store, has announced plans to rival Lord Sainsbury in his bid to become Chancellor of the University of Cambridge.
A week after the ex-Sainsbury's Chairman was announced as the only contender to replace the Duke of Edinburgh, it seems he may now be facing some competition.
Arain claims he wants to put himself forward for the role in protest against potential plans for a Sainsbury's store opening in Mill Road only weeks after the supermarket chain opened another branch on St Andrew's Street.
Speaking exclusively to Varsity, the shopkeeper explained: "The University of Cambridge has shown great leadership on many occasions. Today, once again, the university is called upon to be the vanguard of local communities.
"To this end I seek nomination for the office of the Chancellor of the University of Cambridge.
"Some may rightly point out that I am an outsider. I remind them that Barack Obama was also an outsider."
The deadline for chancellorship nominations closes on June 17 so Arain has a few weeks to find the necessary backing of 50 members of the Cambridge University Senate.
However, the shop claims to already serve regular University-associated customers, including masters of some of the colleges as well as students.
Arain told Varsity that he was confident he would receive the University support he needed and would be contacting each Senate member individually to put his views across.
The Kenyan-born businessman believes his bid will highlight the plight of other independent traders and prevent Cambridge from being "reduced to a mere ghost town" in the face of Sainsbury's increasing dominance.
"We can no longer allow the Big Four – Asda, Sainsbury's, Tesco and Morrisons – to have their 'cake and eat it'.
"Local independent businesses support the local economy by reinvesting their profits back into their community unlike the chains filling the pockets of their far away shareholders."
A spokesman for the University neglected to provide Varsity with a comment, on the grounds that "it is up to the Senate."
As Chancellor, the Mill Road trader would be responsible for advising the University on contentious areas and conferring Honorary Degrees in an impressive annual ceremony.
Read about Abdul Arain's competition here.