Campaigns launched for 2010 CUSU Election
Record turnout expected despite three of six sabbatical positions being uncontested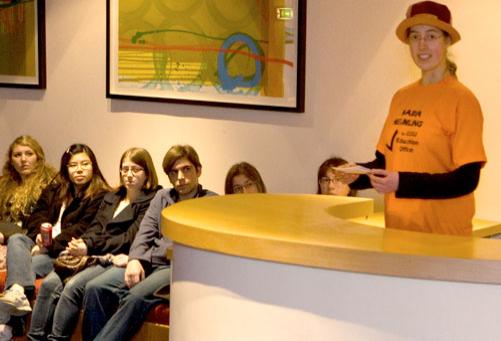 CUSU's 2010 election campaign kicked off this week amidst a flurry of hustings events and minor controversies. Despite featuring three uncontested races, this year's election promises to be a lively debate between vastly different candidates.
The two candidates in contention for the presidency have each emphasized a different vision for CUSU's future.
Current CUSU Communications Officer Rahul Mansigani has staked out a mainstream platform that focuses on traditional areas of student concern, such as discounts, societies, and ents. In particular, he has pledged to offer greater support to Colleges and societies, and to secure more student deals with Cambridge retailers.
In contrast, CUSU Mental Health Officer Beccy Talmy has proposed a more overtly political platform that stresses issues relating to equity, fairness, and access, as is evident from her platform, which appears to tackle more activist issues, such as free education, affordable rents, socially responsible investment, and greater access.
The race for Education Officer also features a politically active campaigner, Luke Hawksbee, running against a candidate with more traditional experience, Maria Helmling.
Hawksbee, a leading member of student lobby group Education Not For Sale, has proposed greater democracy and an integrated approach to equality campaigning. At the first Hustings event at Queens' College on Wednesday, Hawksbee said that he had no background in casework but was hopeful that CUSU's recently acquired full-time case-worker would "free up more time for campaigning", which is "where my strengths lie and where my focus will be".
On the same night, Helmling spoke about the practical internal changes and improvements she hoped to make. These included more university-wide, online lecture resources in every subject, as well as the creation of a personalised online timetable. She also stressed the importance of establishing an education network between students, staff and their faculty representatives.
For the position of Women's Officer, the two candidates in contention are Sarah Peters-Harrison and Anna Goulding. Both have argued that the University is a long way from achieving gender equality.
Goulding stressed the need to address the root issues of inequality, such as the "gendered assumptions" of supervisors. Peters-Harrison also spoke about the need to change the image of the women's movement in Cambridge, so that it was more inclusive and dynamic.
Three of the six Sabbatical positions – Access Officer, CUSU Co-ordinator, and the newly created Student Support Officer – are uncontested this year.
The uncontested position of Access Officer sees Andy McGowan's second bid for election after he was defeated by Joe Farish in a fiercely competitive election last year. McGowan's speech was met with raucous applause at the Hustings event on Wednesday night from the audience of CUSU Council members.
Chris Lillycrop's campaign for CUSU Coordinator has caused some controversy within CUSU. Lillycrop originally proposed eliminating the position of CUSU Union Development Manager, a full-time salaried position. This proposal, which appeared in his manifesto, was redacted for "legal reasons" after extended consideration on the part of the Elections Committee.
Debates about whether Lillycrop should be allowed to include the controversial point in his manifesto ran late into the night on Wednesday, causing the publication and distribution of CUSU's paper, The Cambridge Student (TCS), to be significantly delayed.
The prospect of uncontested elections for half of the key committee positions has raised some concerns about how much choice students will actually have.
The lack of choice is further highlighted by the fact that no candidates have stood for the positions of Mature Student Officer and Mental Well-being Officer. The lack of interest in these positions has raised questions about their importance to the student body, especially in light of recent high-profile and successful campaigns to enhance student welfare.
Both positions will remain open until March 8th, when CUSU Council will vote on them.
Last year's CUSU election saw a record 21 per cent turnout, placing Cambridge among the top NUS institutions for student voting involvement. Despite a lack of candidates in some categories and intra-CUSU controversy, however, this year's elections look set to be some of the most successful in recent history, at least in terms of voter turnout.
General voting will take place next week, with online voting open on March 1st and 2nd and paper ballots available in Colleges on March 3rd.
Clarification: On page 5 of our paper edition this week, in the box devoted to Luke Hawksbee (candidate for the position of Education Officer), we suggested that Luke was for "public class lists". He is in fact part of the campaign against them.
Visit cusu.cam.ac.uk/elections to see full manifestos for this year's candidates.