Students protest Rees-Mogg event with 'kiss-in'
Protesters sang, kissed and flew banners outside the entrance to CUCA's event hosting the Leader of the House of Commons, who previously voted against same-sex marriage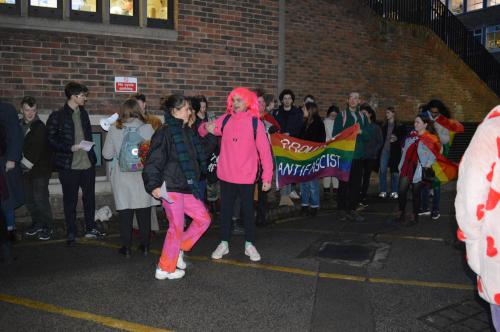 A 'Kiss in for Rees-Mogg' was held on Thursday evening at the New Museums Site protesting Leader of the House of Commons Jacob Rees-Mogg attending an event held by the Cambridge University Conservative Association (CUCA).
The protest, organised by Cambridge Defend Education and Gays Against Rees-Mogg, saw around 50 students turn up to take part in what the event's Facebook page described as a "joyful expression of queer resistance against bigotry."
In 2013, Rees-Mogg voted against allowing same-sex couples to marry and the following year opposed legislation enabling the courts to handle same-sex divorce proceedings.
Protesters sang Shirley & Company's 'Shame, Shame, Shame', let off rainbow coloured smoke, and kissed to demonstrate their opposition to Rees-Mogg as those attending the CUCA event passed them to reach the entrance.
The students flew flags and banners with messages which included 'we refuse to take your homophobia lying down' and 'We Do Not Stan'.
The MP also opposes abortion rights, as he believes "life begins at the point of conception", and has previously said that international aid is a "really wasteful approach to government spending".
"Jacob Rees-Mogg has continuously and intentionally targeted the most vulnerable in society," said CUSU Disabled Students' Sabbatical Officer Jess O'Brien at the protest.
"Giving him a platform is unacceptable," she continued.
One student at the protest, who asked to remain anonymous, said, "I'm angry that men like him have a platform. I respect his right to speak, but not his right to be heard", while another explained they were there "to show that hate can't trump love".
But speaking to Varsity, CUCA Chairman Benedict Smith commented, "Jacob Rees-Mogg is a cabinet minister and a prominent figure in contemporary British politics with lots of insight to offer. He is also popular with our members, a great orator, and good fun."
"The Association prides itself on being a bastion of free speech wherein frank and open discussion is encouraged."
"I believe it is important that students are exposed to different views and are offered the opportunity to challenge them should they disagree," he added.