Vice Chancellor reflects, as Cambridge marks Brexit Day
Stephen Toope spoke proudly of Cambridge as an international institution and gave advice to students and staff amidst concerns and the UK's departure, set for 11pm today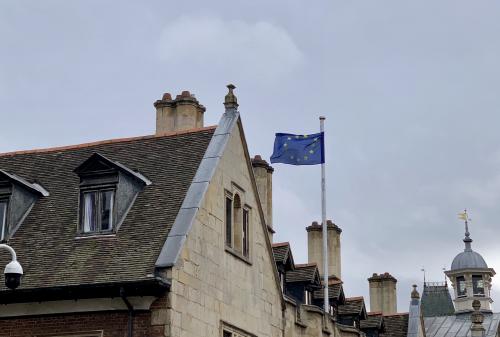 Vice Chancellor Stephen Toope has today published a blog post reflecting on the effects Brexit will have on students and teachers at the University, as the UK is set to the leave the EU at 11pm tonight.
Toope's message reassures EU staff and students, staying that "the University of Cambridge is doubling down on its pledge to remain open and collaborative".
However, he also shared his "unease about Brexit" and "as a Canadian citizen, on this day I mourn the loss of a sense of belonging to something larger than a single national entity."
The Vice Chancellor argued application to the EU settlement scheme is the best way to protect the rights of EU citizens to the UK, and encouraged current EU staff and students to seek advice from the International Student Office and the Human Resources Immigration Team .
While he acknowledged there may be concerns gaining EU funding for research, he confirmed this would not change until the transition period is over, as the UK would participate in the Horizon 2020 framework programme.
Toope hopes the new Global Talent fast-track visa route, an initiative announced earlier this week by the government, will allow researchers and technicians from outside Britain to work at Cambridge.
"Our geography, our history and our mission to contribute to society mean that Cambridge is proudly local, proudly British, proudly European, and proudly global," he wrote.
"These remain complementary, not exclusive, identities."
But other bodies raised concerns about the effects of tonight's departure on Universities.
Studee is an organisation which helps students and Universities manage international student applications.
"Although the transition period means current students don't need to take action, it's still unclear for those considering applying to study in the UK in 2021," it said.
"The process of finding, applying, enrolling and starting at universities overseas can take on average between 12-15 months."
Jihna Gavilanes, President of Studee further commented, "by keeping universities and students in the dark, we could risk a drop in international students, who add an approximate £20bn to the UK economy every year."
"We urge the government to release plans as soon as possible to help students who are making their decisions now for the next phase of enrolments', she said.
To mark the UK's last day in the European Union, Pembroke today flew an EU flag, while the EU  blue and yellow colours were projected onto the Guildhall this evening.