'A Rapist in Your Path': activists protest abuse against women
A student-organised protest rallied outside Guildhall singing the viral Chilean anthem in solidarity with women who have experienced structural oppression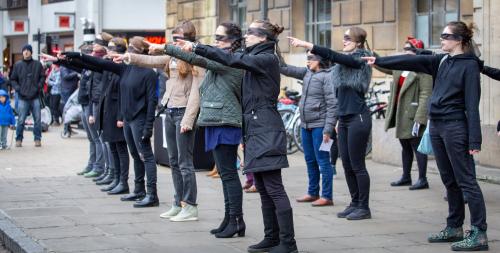 Content note: This article contains mention of sexual and domestic violence
A group of activists gathered outside the Guildhall on Saturday afternoon for a performance of anti-rape anthem 'A Rapist in Your Path' to denounce violence and human rights abuses against women.
The feminist anthem, which originated in Chile, became an international phenomenon after videos of the performance went viral last year. Activists have since performed the song in cities across the world including outside the court during the trial of film producer, Harvey Weinstein, in New York City.
The performance brought together women of all ages, including several students who joined the performance in solidarity, handing out leaflets with information about sexual violence.
Laura Wainman, organiser of the event in Cambridge, explained that she decided to stage a performance as "an action of solidarity – both with the women who began the protest in Chile and with women everywhere who have experienced violence and oppression."
"It's an act of defiance in the face of a system that perpetuates rape culture and the continued violation of women's rights – as well as being a powerful way of raising awareness on the issue."
The song was created by Chilean feminist collective, Las Tesis, and is based on the work of Argentinian theorist Rita Segato who argues that sexual violence must be treated as a political issue.
The song is aimed at police forces and judiciary and political power structures who uphold systematic violations of women's rights, with lyrics saying, "The rapist is you/ It's the cops/ The judges/ The state."
In the UK, one in every five women over the age of 16 has experienced sexual violence. However, only 15% of victims will report the crime to the police and only 6% of those reports end in a conviction for the perpetrator.
Laura said: "It is the oppressive system – perpetuated by the police, judiciary systems, and political power structures – both here and in Chile, that allows the continued violation of women's rights and in many cases encourages rape culture and victim shaming. This is not only devastating to the women who experience it but is also highly damaging to our society."
Laura added: "We hope these protests will continue to inspire a global community of women – separated by distance but not by experience. When we act together, in solidarity, and as a single global community of women we have enormous power– and it is through channelling this power that we can dismantle the systems of oppression and end violence against women."
If you are affected by any of the issues raised in this article, the following organisations provide support and resources: