New book to reveal Oxford academic's involvement with Cambridge Analytica
The Fellow of Nuffield College faces accusations of influencing Argentinian elections, following Cambridge academic Alexandr Kogan's role in the data scandal last year.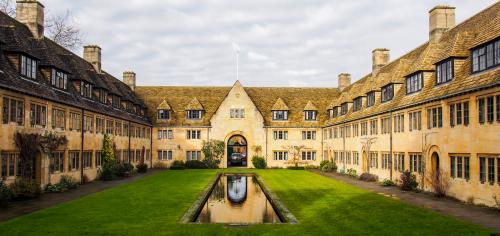 An Oxford Fellow, Raymond Duch, is the latest academic facing allegations of assisting Cambridge Analytica's parent company, SCL, following claims that he helped the company influence the 2015 Argentinian elections.
Duch, a social scientist from Nuffield College, worked for SCL for six months to "help them with sophisticated data analytics on public opinion surveys", according to an article published last month by propaganda researcher Dr Emma Briant in a preview of her upcoming book.
Duch is one of multiple academics implicated in the Cambridge Analytica data harvesting scandal which erupted in March 2018. Whistleblowers revealed the political consultancy was using social media data to influence elections.
Dr Aleksandr Kogan, a Cambridge neuroscientist affiliated with the Department of Psychology, was at the centre of the controversy in 2018 for building a quiz-style app. The app collected the personal data of its users and their Facebook friends, which was then by Cambridge Analytica to create tailored political advertisements.
Duch also developed an app, which aimed to predict voting behaviour. It used the Facebook accounts of Texas citizens to predict the outcome of the state's 2018 Congressional district election results, harnessing users' publicly available profile information.
According to Dr Briant, Duch said he did not share this data with political campaigns and had no contact with the Cambridge academics involved in the scandal. Briant says he insists "he had nothing to do with the Argentinian presidential election" while refusing to name the countries he worked on while at SCL.
However, Dr Briant claims SCL worked on Argentina's local elections "between fall 2014 to February 2015", a period that coincides with Raymond Duch's work with SCL.
Former Cambridge Analytica CEO Alexander Nix also admitted SCL helped run an 'anti-Kirchner' campaign, testifying before a British Parliamentary committee.
Christina Fernández de Kirchner served as the President of Argentina from 2007, until she lost the 2015 presidential elections.
Dr Briant also claims she has seen an email from Duch to Nix, dated June 6th stating, "you were waiting on something from me regarding Argentina. I must have dropped the ball on this — can you remind me what you need and I'll get it to you asap."
The University of Oxford turned down Dr Briant's Freedom of Information request on the grounds "Duch's work was conducted on behalf of his company". Both Nuffield College and the University declined a request for comment from Oxford student paper Cherwell.
Dr Briant raises questions over the ways "England's most prestigious universities" deal with enquiries regarding the Cambridge Analytica scandal.
"Universities, rightly, encourage academics to be engaged in the 'real world' yet need to wise-up to the nature of apparently 'personal' paid work in industries that are opaque and often ethically problematic," she wrote.
"Cambridge University was criticised for the way they handled transparency requests during the 2018 scandal," she further recalls.
During the height of the scandal, the Cambridge repeatedly asserted Kogan did not use any university resources or data for his work with Cambridge Analytica.
Dr Briant's book, 'Propaganda Machine: Inside Cambridge Analytica and the Digital Influence Industry', is set for release later this year.