Father of London Bridge victim condemns coverage of attack as 'vile propaganda'
David Merritt had previously written that his son would not want his death to be "used as a pretext for introducing even more draconian sentences on prisoners"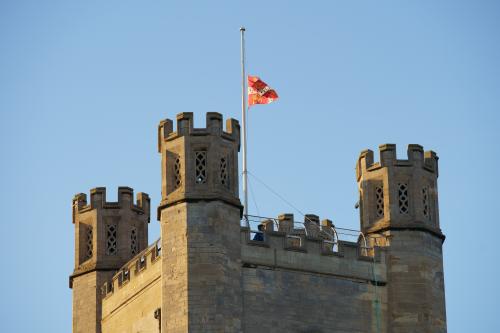 The father of Jack Merritt, one of the victims of Friday's London Bridge terror attack, has condemned newspaper coverage of the attack as an attempt "to promote [...] vile propaganda." In response to Daily Mail and Daily Express coverage, David Merritt wrote: "Jack stood against everything you stand for — hatred, division, ignorance."
David Merritt retweeted criticism of today's Daily Mail and Daily Express front page coverage of the attack, which read: "The Daily Mail (and their copycat friends) are literally nothing more than the propaganda wing of the Tory Party."
Today's Daily Mail front page focussed on Prime Minister Boris Johnson's response to the attack: a pledge to crackdown on those convicted of terrorism offences by introducing mandatory 14-year minimum sentences and ending early release for those convicted of terrorist and extremist offences.
In an earlier statement, Merritt's family stated that "Jack would not want this terrible, isolated incident to be used as a pretext by the government for introducing even more draconian sentences on prisoners, or for detaining people in prison for longer than necessary."
On Twitter, Merritt's friend Hollie Jones wrote that he was "quite simply the best thing. Completely golden," and spoke of her fears that his "reasonable, sensible, passionate voice could get lost in this mess".
"You spoke up for people and now we must do the same for you," she added.
Both Merritt and Saskia Jones, who was also killed in the attack, dedicated themselves to prisoner rehabilitation. They were attending the fifth anniversary conference and celebration of Learning Together, a prison rehabilitation programme led by Cambridge's Institute of Criminology, when the attack took place.
In a statement, Jones' family said that she "had a great passion for providing invaluable support to victims of criminal injustice" and had recently applied for the police graduate recruitment programme "wishing to specialise in victim support." Professor Loraine R. Gelsthorpe, the director of Cambridge's Institute of Criminology, reiterated that Jones' "warm disposition and extraordinary intellectual creativity was combined with a strong belief that people who have committed criminal offenses should have opportunities for rehabilitation."
Merritt's family similarly praised his dedication to "making a career helping people in the criminal justice system," while Professor Gelsthorope said "he was deeply, creatively and courageously engaged with the world, advocating for a politics of love."
Today, Jack's father shared tweets from journalist and activist Ash Sarkar, who condemned the papers' coverage of the attack. Sarkar wrote: "Jack Merritt's family and loved ones have specifically asked that rightwing newspapers and political parties not use his murder to advance reactionary demands. If you see it happening, call it out. They deserve so much better."
She continued: "it's beyond disgusting that Boris Johnson, Priti Patel and newspapers like the Mail are using Jack Merritt's death and image to promote an agenda he fought against all his life. He was a passionate believer in rehabilitation and transformative justice, not draconian sentencing."
In The New York Times, Emma Goldberg, a former classmate of Merritt's at Cambridge, asked that we mourn Merritt's death "without forgetting what he stood for in life".
Writing in the Guardian today, Jack's father praised his son's work in criminal rehabilitation, saying that he "lived and breathed fire in his pursuit of a better world for all humanity."
"He would be seething at his death, and his life, being used to perpetuate an agenda of hate that he gave his everything fighting against," he continued, saying that "what Jack would want from this is for all of us to walk through the door he has booted down, in his black Doc Martens."
"That door opens up a world where we do not lock up and throw away the key. Where we do not give indeterminate sentences, or convict people on joint enterprise. Where we do not slash prison budgets, and where we focus on rehabilitation not revenge."
Journalist Owen Jones shared the piece, tweeting that it "should shame those who've tried to use [Merritt's] death to further an agenda of hatred."
"Through us all, Jack marches on" wrote Merritt's father today in the Guardian. "Never give up his fight."