Breakfast club on the picket lines: students bring strikers provisions in support of UCU
One of the runners told Varsity that breakfast runs are "a physical, tangible way" to show solidarity with staff.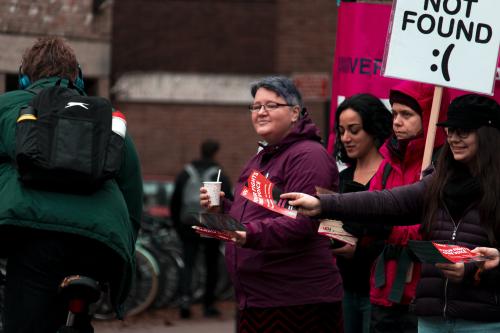 On a frosty Tuesday morning, students gathered at CUSU to pick up hot drinks and biscuits before dispersing to distribute them to picketers at various sites across Cambridge.
The runners are joining the picket lines every morning of the strike to show solidarity with staff in their fight for fair pay and decent pensions.
At the Engineering department, most teaching was unaffected by the strikes. When asked why they were crossing the picket line, one group of students responded by asking what it was.
The picket at the department was crossed by most students on bikes, who took little notice of the small group of staff who held UCU signs and leaflets. Staff on the picket lines were grateful for the runners' support, encouraging them to join in.
One of the runners, who is an undergraduate English student, told Varsity that breakfast runs are "a physical, tangible way" to show solidarity with staff. They said that students have an "ethical imperative" to support strikes.
"The staff, who are being economically exploited by the University, are the people who are working with the students and give us all this amazing teaching… Secondly, it's in our interests as well because the conditions make it really hard for (staff) to give us the education we deserve". They hope that the strikes will help to create a "more egalitarian" University.
An Economics Undergraduate told Varsity that their department is "absolutely not" in solidarity with the strikes. "There's no one striking; none of the lecturers, none of the students - it's basically been completely ignored."
"It's important to show solidarity with different departments - like the Engineering department - where they have equally low numbers of support," they said.
CUSU's welfare and rights officer, who helped organize the breakfast runs during the 2018 strikes and was involved in setting them up this year, told Varsity that "there are more people going on breakfast runs than last year, and a bigger range of students."
"It's a really good way to show our support for the staff," they said. "It's really cold standing on picket lines, so you can take them coffee, but it's also a chance for students to go and have a chat with the staff, find out why they're striking… to engage more rather than just seeing things online."
If you have been affected by any of the issues raised in this article, the following information and support is available: