Pembroke to reduce May Ball ticket prices in 2020
Following a college-wide poll, the May Ball committee plans to trial run a reduced ticket price for the 2020 Ball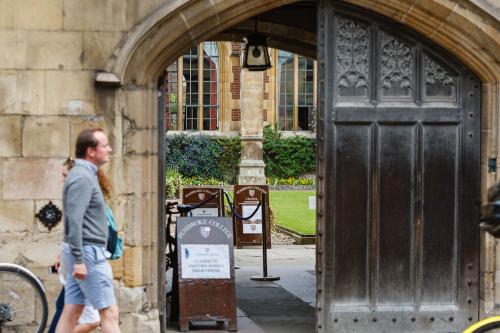 On Monday, the Pembroke May Ball Committee told students they would be beginning preparations for a trial run of reduced ticket prices for their 2020 Ball. The suggested price is £115 for Pembroke students, a reduction from the usual ticket price of £145. A further £30 discount for students on bursaries and in difficult financial situations was also proposed.
The announcement came after Pembroke's students took part in a poll responding to the proposals emailed round to them last Thursday. 236 students voted in the poll, with 76% responding in favour of the new ticketing proposals.
The Committee stated in their proposal, "We believe we can organise an event of the same quality of the 2019 May Ball with a reduced budget by making savings such as: reducing the cost of the headline music act, reducing the production budget, and removing decor elements such as projection mappings and replacing these with LED up lighting."
"There are changes we do not believe impact the overall enjoyment of the event. Budgets such as food, drink, and non-musical entertainments would remain similar to those of the May Ball 2019. We would also like to remove the dining option, as there was a lack of demand in 2019 and the cost of running this was too high."
In other areas than the ticket price reduction for Pembroke students, it is proposed that the Committee will charge a higher price of £135 for general university members, offer a 2 hour late entry ticket for a reduced price of £95, and offer bursary tickets to those just above the bursary threshold.
Hughes Hall was the first college to offer a discount, at 20%, to students on full bursaries in 2018 and Wolfson followed suit for that year's balls. Pembroke too began a similar scheme last year, along with Jesus, Homerton, and Downing.
The Pembroke Committee proposes that after the 2020 trial run, they would consult the Fellows to make a recommendation to the subsequent Committee about the nature of the event in 2021. They would also offer a referendum to students to vote on any permanent changes.
If a system of smaller May Balls was to materialise, then there would no longer be the June Event priced ticket at £95. "There is a trade-off to be made between offering a cheaper, non-May Ball event or truly making the May Ball accessible."
The Pembroke May Ball Committee acknowledge that "this type of event has never been done before and as such there is an element of risk involved." Since the decision was made, the Committee have said they will be "running open meetings throughout the year, to allow open discussion about our ideas and progress."
"P.S.", they added, "Do not fear, we will be having dodgems in 2020!"