Cambridge's Disciplinary Procedure
Cambridge fellow calls for independent inquiry into University's handling of sexual misconduct complaints
Charlotte Proudman has also called for the Pro-Vice Chancellor to apologise for his comments in a Channel 4 interview on sexual violence at Cambridge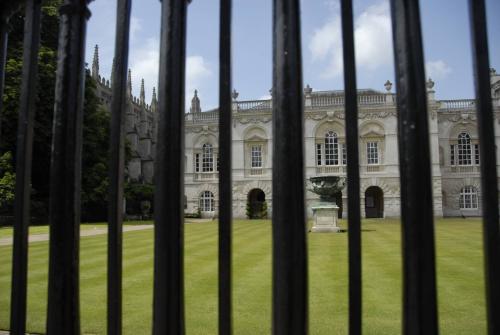 Content Note: This article contains detailed discussion of sexual misconduct and rape, and legal proceedings concerning these issues.

If you are affected by any of the issues raised in this article, the following organisations provide support and resources:
Dr Charlotte Proudman, a barrister and Junior Research Fellow in Law at Queens' College, has called for "an internal inquiry into how complaints of sexual misconduct are handled by the University" after it emerged that a single academic had ruled the current University disciplinary regulations do not cover sexual misconduct.
Describing the process as "woefully lacking", Proudman argued that "the University is not meeting its duty of care to students".
Last week Varsity revealed that the Chair of the Discipline Committee had ruled that the term 'harassment' within the University's regulations was being interpreted too widely, and that sexual misconduct complaints should not fall under the definition of harassment. 
This ultimately led to a student being that told their complaint against another student, who they said had sexually assaulted them, could not be taken forward.
Since then, a second student has come forward to tell the story of how it was their complaint, against a student who they say raped them, that set this precedent when the case was dismissed by the Chair of the Discipline Committee on 20th June.
There are currently four chairs of the Discipline Committee, and the University did not respond when asked which of the four had ruled on this decision. Two of the chairs declined to comment. Two did not respond to requests for comment.
Proudman, who specialises in the law surrounding gender-based violence, said that "given the gravity of the complaints that are being made against the University" there should be an independent inquiry into their handling of sexual misconduct complaints. "The University has an inquiry ongoing into its links with the slave trade, quite rightly so, and I don't see why this should be any different", she explained.
In a Facebook post condemning the Chair's decision, CUSU Women's Campaign also called for the University to "commit to exploring every possible avenue for a solution to this problem". 
The group argued that "it is unacceptable for the University to simply sit back and wait for the new procedure to come into place in October. In the interim months the University is seriously failing students who need to access the procedure."
According to FOI data obtained by Varsity, since the introduction of the current University Discipline Procedure in October 2015 there have been 10 cases taken forward by University students against other students or former students. Seven of these have related to "sexual acts".
Of these, only two were upheld by the Discipline Committee. Two had insufficient evidence to proceed, two cases did not give a reason for being unable to proceed and one was withdrawn by the complainant.
The Senior Pro-Vice Chancellor "ought to apologise" for his comments, Proudman said. 
This means that there have now been more cases dismissed in the past month due to the Chair's decision than have been upheld by the University under this procedure in the past 3 years.
A University spokesperson told Varsity that "cases of sexual misconduct that constitute harassment are still being brought forward under existing regulations". They did not respond to specific questions regarding the Chair's decision that sexual misconduct complaints do not constitute harassment.
From 1st October, a new disciplinary procedure will come into force that will explicitly define 'sexual misconduct' as a breach of the rules of behaviour for students, effectively overruling the Chair's decision. 
Explained What will the new Student Disciplinary Procedures change from October 1st?
The new Student Disciplinary Procedures will introduce a number of changes to the way student complaints are dealt with from 1st October.
Firstly, Rules of Behaviour will be established that explicitly state that a registered student must not "engage or attempt to engage in physical misconduct, sexual misconduct or abusive behaviour: towards a member of the collegiate University community; or towards anyone within the precincts of the University or during the course of a University or College activity."
Secondly, a new full time role of Investigating Officer will be created, who will replace the University Advocate and Proctors in conducting investigations into student complaints. Currently the University Advocate is an academic at the University.
Finally, although adopted in a separate vote from the new Student Disciplinary Procedures, the burden of proof for complaints will also change from 1st October. Cambridge had been one of only a handful of UK universities to use the criminal standard of proof, which requires that student disciplinary cases be proven 'beyond reasonable doubt'. A system of 'balance of probabilities' will be used from October, which, according to the University, "requires a determination that something is more likely than not to have happened, the decision must be supported by evidence, and it is a higher standard than simply believing something has happened." This is the standard of proof used by most employers and other professional organisations in the UK.
However, this new system will only work prospectively, meaning complaints to the University made by anyone who was, or is, sexually assaulted or harassed before this coming October will be assessed under the old procedures, even if complaints are filed after this date. And because of the Chair's recent decision, such cases would likely not be found to constitute harassment. A University spokesperson told Varsity that "cases of sexual misconduct that constitute harassment are still being brought forward under existing regulations". 
Proudman has also said that Professor Graham Virgo, Senior Pro-Vice Chancellor for Education, "ought to apologise" for his comments in a recent Channel 4 News interview.
On the 18th July, just 5 days before Varsity first reported that the University would no longer be taking forward some sexual misconduct complaints, Virgo appeared on Channel 4 News to respond to their story on sexual violence at Cambridge.
In the interview he said that, "Since 2016 we now have made provision for sexual misconduct within our disciplinary processes." He went on to claim that "the situation is fit for purpose clearly."
When asked by the presenter, Cathy Newman, if he was "concerned that women might have grounds to sue Cambridge University on grounds that their education has been impeded", Virgo replied: "Not where we are now, with our new processes I am confident that we are in a position to fully support all our students."
Since the interview two women have spoken to Varsity about their reports of sexual assault and rape being dismissed after being told the University procedures do not cover sexual misconduct. These cases were dismissed on 20th June and 4th July 2019, 28 days and 14 days, respectively, before Virgo appeared on Channel 4.
The University did not respond when repeatedly asked if Professor Virgo was aware of the Chair's decision before going on Channel 4 News. Varsity understands that Virgo discussed the Chair's decision with members of CUSU in early July, prior to his appearance on Channel 4.
Proudman argued that Virgo should apologise as he "misrepresented the information [the University] had at the time when he answered that question" and gave "a misrepresentation of the fact that allegedly the University is able to confidently investigate such complaints."
"In reality [the University has] unilaterally, by the decision of one chair, changed its mind on how to deal with sexual misconduct complaints up to October 2019, which could result in no such complaints even being investigated."
"There could be sexual misconduct complaints between now and October! Those alleged perpetrators that may have been involved in such behaviour know that they can then act with impunity and the University will do nothing about it. [Concerning] any complaints between now and then, that's the message that it sends out."
"There could be sexual misconduct complaints between now and October!"
A University spokesperson said: "Cambridge places the utmost importance on the welfare of its students, and continues to offer support, advice and the option of the University taking action to anyone who has experienced a form of harassment." 
"We have made huge progress on our provision for this since universities were given a mandate to investigate cases of sexual misconduct but where we have identified areas for improvement, we've taken action, including undergoing a consultation on changing the disciplinary system which has resulted in new regulations coming into effect from 1 October."
Proudman also told Varsity she believes "the decision that potentially the University will not investigate complaints of sexual misconduct that occurred pre-October 2019", and that students cannot appeal the decision, could be against the law.
"I don't think the University can say that from a legal standpoint. I think you could have a judicial review of this new guidance that they're bringing out to say they won't actually review [sexual misconduct] cases, potentially, pre-October 2019. And I think that would be irrational and Wednesbury unreasonable, I don't think that would stand up in a court of law if someone were to take that case. I really don't."
"I think it would be really good to actually see a case in court where there is a clear breach of the Equalities Act and the court rules there is, because they don't appear to accept, in my view, that they even have a duty to investigate properly in these cases. How is it fair that there is one member of staff who sits in this office and decides whether any of these complaints are going to result in charge?"
If you are affected by any of the issues raised in this article, the following organisations provide support and resources:
Varsity is the independent newspaper for the University of Cambridge, established in its current form in 1947. In order to maintain our editorial independence, our print newspaper and news website receives no funding from the University of Cambridge or its constituent Colleges.
We are therefore almost entirely reliant on advertising for funding and we expect to have a tough few months and years ahead.
In spite of this situation, we are going to look at inventive ways to look at serving our readership with digital content and of course in print too!
Therefore we are asking our readers, if they wish, to make a donation from as little as £1, to help with our running costs. Many thanks, we hope you can help!
Sponsored Links
Partner Links