Over 150 protest in Cambridge over Trump state visit
Campaigners chanted "say it loud, say it clear, Donald Trump's not welcome here" ahead of tomorrow's national demonstration against the US President's state visit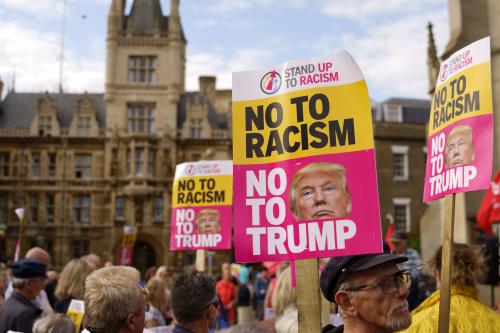 Content note: This article contains discussion of sexual violence.
Over 150 people gathered today outside Great St. Mary's Church to protest Donald Trump's three-day state visit to the UK.
Campaigners carried banners which read "no to racism", "no to Trump". Other banners stated, "fight bigotry" and "Trump is a nasty symptom but capitalism is the problem".
Donald Trump's three-day state visit to the UK started today where he met the Queen at Buckingham palace for a welcome ceremony.
Hours before he landed in the UK, Trump tweeted that Sadiq Khan, Mayor of London, has been "foolishly "nasty" to the visiting President of the United States".
Writing on Facebook ahead of the event, organisers stated that Cambridge has the "proud" title of "the most anti-Trump place in the UK", and pointed to Trump's last visit to the UK, where they showed that "he and his divisive policies are not welcome here".
One of the protest's speakers, from the US, stated that they "will not apologise for Trump" but instead "speak in defiance", which drew cheers from the crowd.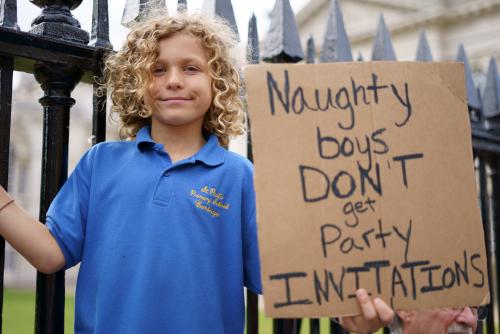 Another speaker for the protest stated that it is "our duty" to "say no" to Trump. She emphasised that only 12 US presidents have made presidential visits to the UK and Ireland, this being Trump's second. She stated that Trump being given this "honour" "suggests that we in the UK" endorse his policies. She stated that it is "our duty" to "say no" to this.
A 30-second silence was also held for protestors in Sudan, "unarmed [and] shot down in cold blood", one of the speakers stated.
Many of the speakers also drew attention to Trump's treatment of climate change and his withdrawal from the 2015 Paris Accord. In 2018, he stated that climate change researchers have a "political agenda".
Speaking at today's protest, a spokesperson from Youth Strike 4 Climate Change told of their shame at Trump's rhetoric and the UK government. Drawing attention to the need to "stop this climate crisis, he told the crowd "we will not stand for this any longer".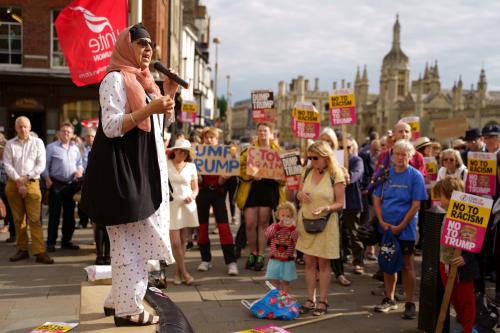 The protest was co-organised by Cambridge Stop the War Coalition and the local Cambridge and Cambridge University Stand Up to Racism groups. Members of the Labour Party and Unite the Union were also in attendance.
Earlier this year, CUSU Women's Campaign released a statement regarding the "increased amount of organising by Stand Up to Racism in the University", a group which they stated is a "front" for the Socialist Workers Party (SWP).
Womcam pointed to a leading member of the SWP who was "accused of rape and sexual violence" in 2013, and how "multiple women spoke out about the fact that sexual violence was endemic within the organisation". Stating that the SWP "refuses to engage with women's attempts to hold their abusers to account", they said "it is incredibly dangerous for the SWP to be organising and recruiting in Cambridge".
"It is important that we commit to anti-racist work without silencing survivors of sexual violence", they continued, and "recommend[ed]" that people "do not attend events" held by Stand up to Racism or SWP.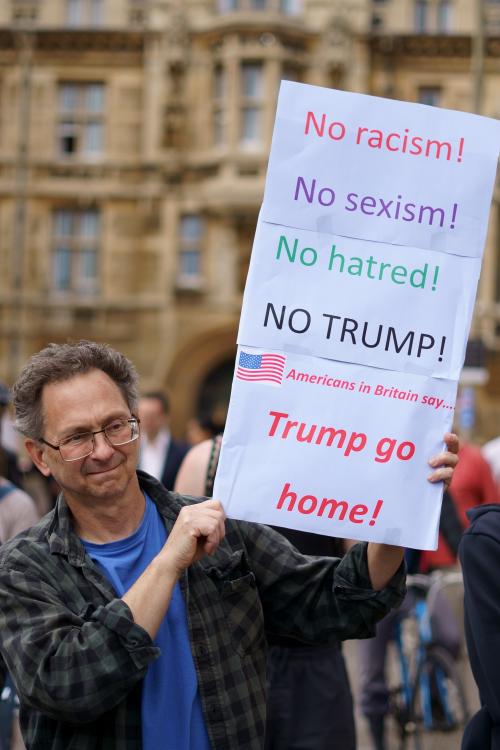 In response, the University's Stand Up to Racism group posted a statement on Facebook, where they stated they are "part of the national campaign called Stand Up to Racism", and that SUTR is a "broad movement, not affiliated to any political party".
Stating "we are not a front for the SWP, the Labour Party or any trade union", they said that they "condemn any form or instances of sexism in all of these organisations, and urge them to address these in a proper way".
The protest anticipates the national demonstration against Trump's visit in London tomorrow, organised by the Stop Trump coalition. Protestors plan to gather in Trafalgar Square at 11am and show that they "reject Trump's divisive politics".