Hundreds skip school to march for the climate crisis
Students, parents and adults marched through Cambridge city centre, with speeches on King's Parade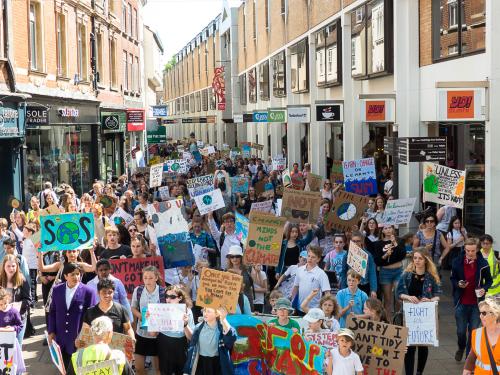 Today hundreds of school students and parents took to marching through Cambridge city centre as part of a national school strike for climate change.
Organised by Cambridge Youth Strike 4 Climate, the march converged on King's Parade at 11:15 this morning bearing banners and listening to speeches outside Great St. Mary's church.
Skipping school to take a stand for the future of the planet, several students gave eloquent and powerful speeches to the crowd who cheered supportively. One student noted that seriousness of climate change, demanding "action on all levels everywhere", noting that students were using their voices to "speak truth to power".
"As youth we already face the terrible consequences of this climate emergency. We have to stand up locally."
Members of the student-led Cambridge Schools Eco-Council also spoke, with one noting the consequences that pupils have had to face to attend the strikes: "If me sitting through an hour of detention means that my grandchildren get a planet, it's absolutely worth it."
"The adults in power have failed us, but we refuse to fail too. We refuse to ignore what is happening before our own eyes. We refuse to stay silent and we refuse to back down."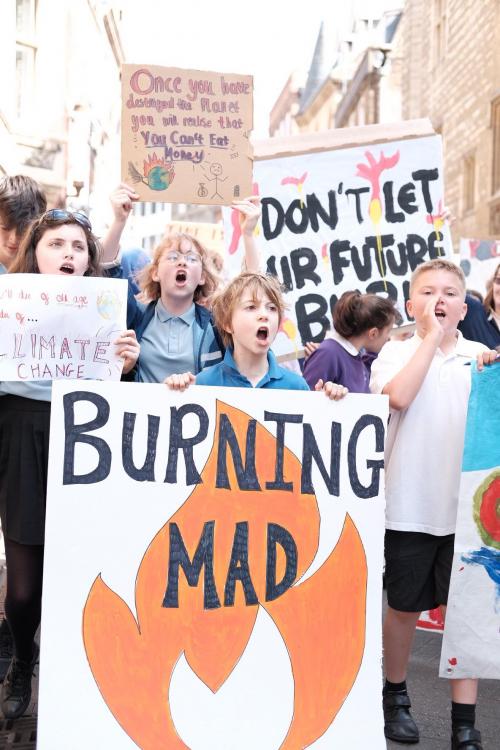 An official statement from the Eco-Council noted that the "the poorest children on Earth are nowadays suffering the worst impacts of a climate crisis that has been fuelled by the economy of the richest countries". They said the strikes would continue until the government took notice and stopped "funding, subsidising and promoting" fossil fuels, investing instead in renewable sources, and introduced information about the climate crisis into the school curriculum.
According to a statement by the Co-Chair of the Eco Council, Nico Roman, aged 10, the Eco-Council has members in 27 different schools across Cambridge, both secondary and primary.
This is the fourth student-led strike in Cambridge, and Roman noted that Michael Gove, Environment Secretary of State, was "willing to meet with [their] delegation". An initial meeting with Gove, planned for the 5th of May, was postponed on the day due to the Secretary of State's busy schedule. However it is set to be rescheduled in the near future.
All speeches were met with cheers, but the biggest cheer came when one of the students hosting the event notified the crowd that "Theresa May has resigned".
Among the many banners that were waved enthusiastically was an inflatable dinosaur bearing a sign, 'mass extinction sucks', and another sign that took inspiration from Doctor Seuss' The Lorax that read: 'unless someone like you cares a whole awful lot, nothing is going to get better. It's not.'
A university representative from Zero-Carbon also addressed the protest, and Extinction Rebellion stewards were on hand to ensure the event ran smoothly.
Students were encouraged to bring two more friends to the next strike that is scheduled to be held on the 21st July.