Reverend Al Sharpton: the Cambridge slavery enquiry 'is not enough but it is a step in the right direction'
The civil rights activist addressed the Cambridge Union and spoke about the 2020 presidential election, Obama's legacy, and the issue of reparations.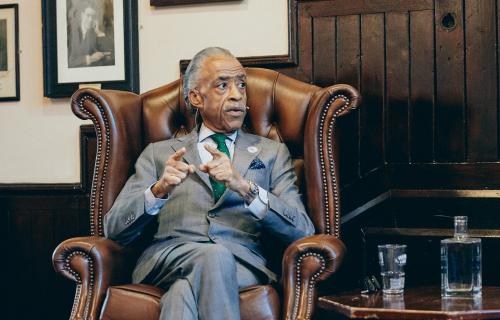 Reverend Al Sharpton has had a storied if sometimes controversial career which has seen him tour with the Godfather of Soul, James Brown, survive an assassination attempt, and run for President of the United States. The long-time civil rights activist and radio talk show host was speaking at The Cambridge Union as a part of a visit to the U.K. that also involved a meeting at Downing Street with other black activists and the Special Advisor to the Prime Minister, Nero Ughwujabo, to discuss 'serious violence'.
Before his talk, Varsity sat down with Sharpton to discuss his thoughts on the upcoming Presidential Elections, the legacy of Barack Obama, and Cambridge's decision to launch an enquiry into its history of profiting from slavery.
We start on that last point, with Sharpton joking that the newspapers waited for him to come to the country to feature the story on their front pages. He said he does "not think it is enough but it is a step in the right direction and the real question is where it will go." At the recent National Action Network Convention, Sharpton, the group's founder, asked potential Democratic Party candidates including Beto O'Rourke and Pete Buttigieg whether they supported a commission to study reparations, something which Sharpton has long been an advocate for.
He continued: "It cannot end with an apology. I think they must come to a concrete way that they equalise the damage done by those who suffered from the damage. Every institution has to do the same, other universities and other places period. When you have a disadvantage based on somebody else unfairly taking an advantage, it should not even be a question whether or not you have to pay for that."
While both O'Rourke and Buttigieg, along with Andrew Yang claimed they would support the commission at the Convention, Sharpton has yet to announce who he will be supporting in the Democratic Party's Primaries. He said he had spoken to a number of candidates "to see where they stand on the critical issues of democratising America".
These issues include the preservation of voting rights as a countermeasure to the "tremendous problem of voter suppression", reform of the criminal justice system and in particular addressing problems of mass incarceration and lengthy sentences for "insignificant crimes", addressing issues with policing and police brutality, and economic opportunities for black Americans in particular. Sharpton notes that despite Donald Trump's claims that unemployment rates for black people were at an all-time low, "blacks are still in a robust economy, doubly unemployed compared to whites."
It is their response to this, along with their "political strategy", Sharpton claims, that will influence his decision in supporting Trump's prospective opponent in 2020.
Sharpton was described by Trump's predecessor, Barack Obama as "the voice of the voiceless and a champion for the downtrodden" and even formerly served as a White House advisor to him. While Sharpton acknowledges Obama "left a lot undone", he also claims he "did a lot more than any other President." He claims despite the adversity faced by Obama in the form of a "country that had never recovered from him winning" he was nonetheless "able to get national healthcare", "opened avenues in addressing issues of law enforcement", and "expand the fight around equal opportunities."
Assessing Obama's successes in its historical context, Sharpton noted Obama had almost 40 years of right-wing politics from Richard Nixon to George W. Bush to address and over turn. In this respect, it is clear Sharpton appreciates the changes made by the 44th President, however worries they are being undone by the current administration: "It took everything and some to turn the ship around, and now the ship has been turned back around if not upside down".
Reverend Al Sharpton was speaking at The Cambridge Union