Cambridge rough sleeping figures show no improvement since last year
The number of those sleeping rough in Cambridge has seen a marginal rise since 2017, in contrast to national figures which have seen an average decrease in the number of those homeless.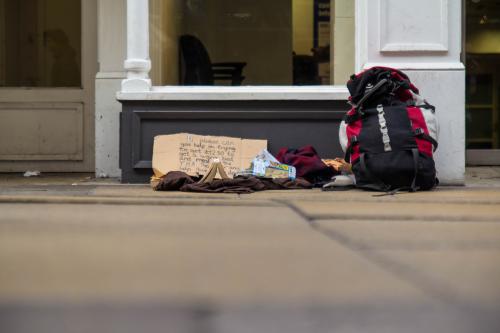 A count of rough sleepers that took place in November, published last week, has revealed that the number of those sleeping on the streets of Cambridge had risen to 27 in 2018, a marginal rise from 26 in 2017. Of those counted in 2018, none of them were believed to have been under the age of 18.
The count, carried out for the Ministry of Housing, Communities and Local Government took place early in the morning on November 23.
National figures show the UK has seen numbers of rough sleepers fall in the last two years – with the number at 4,677 in 2018, down from 4,751 in 2017, a 2% decrease for the first time in 8 years.
However, despite this year's increase, Cambridge has seen relatively significant improvement compared to the national picture since 2016: nationally rough sleeping has risen by 13% since 2016 (despite last year's 2% decrease), whilst in Cambridge figures have gone down from 40 rough sleepers from of 2016 count, a decrease of about a third in two years. However, recent counts are still significantly higher than the number in 2010, when only six rough sleepers were recorded in Cambridge.
Executive Councillor for housing at the Cambridge City Council Richard Johnson said that whilst there was a small rise, the City Council was still working well to tackle the problem of homelessness in Cambridge, stating it is important to "set [the figure] in the context of previous years."
However, Councillor Tim Bick, representative of the Liberal Democrats in Cambridge and one of the authors of a report on rough sleeping in Cambridge published last year, believed that the issue of rough sleeping is "too often treated like a ghost in the room for fear of being misunderstood." He called for a Cambridge Charter on rough sleeping, stating that "Cambridge is underplaying its potential to make a positive difference to a tragic situation".
The other author of the report, Liberal Democrat Councillor Nichola Harrison, stated "these scenes of human misery on our streets is something none of us should have to accept as normal."
Johnson, however, rejected the idea of a Cambridge Charter on rough sleeping as suggested by the report, arguing that it would only "duplicate" efforts already in place, and waste resources.
Daniel Zeichner, MP for Cambridge, stated that the number of rough sleepers in the UK has become a "national shame". Commenting on rough sleeping in Cambridge, he said that the "City Council and voluntary agencies do a fine job, but confront a rising tide of misery caused by the Government's calamitous and callous welfare and housing policies." He called for "greater commitment from central Government".
The release of these figures come after an announcement that Whitworth House, the only female residential home in Cambridge, will be closing due to a withdrawal of council funding.