Preti Taneja: "I wrote with all the fury that I had"
The award-winning author discussed her acclaimed debut novel, her sense of British Asian identity, and what it means to be a 'political writer'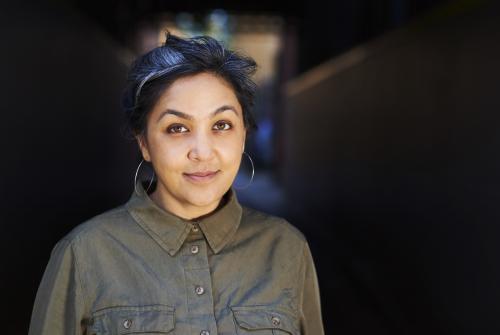 As one of The Sunday Times, The Guardian, and The Spectator's books of the year, as well as the winner of the Desmond Elliott prize, it would be fair to say that Preti Taneja's debut novel We That Are Young has made a remarkably rapid ascent to the heights of the British literary scene since it was first published in 2017. Taneja, now a Fellow Commoner at Jesus College, Cambridge, a graduate of St John's and a former Varsity editor, described the process as "a slow burn."
"It felt like quite a long journey to me."
The novel, a retelling of King Lear set in modern India, takes on themes from caste and gender-based violence, to capitalism, big business, neo-colonialism and women's rights. While topics like these may not have appealed to those of a more conservative bent, Taneja remained unperturbed. This was despite the "politely couched resistance to the ideas in the book" from the British publishing establishment which led to difficulties in finding a publisher.
When I ask if she considers herself to be a 'post-colonial' author in the traditional sense, Taneja responds: "I think the kind of categories of literature that the academy imposes on us are reductive in lots of ways. And I think all of us who grow up under certain periods of post-Empire have to ask ourselves, did it ever end?"
For Taneja, the attitudes of empire remain alive and well at home. "What they did was create another empire right here where ethnic minority people can be service workers, professional classes if you're lucky.
"But you will not come to Cambridge, you will not go to Oxford, you will not access high levels of elite culture. There will be a few of you in place but the rest of the time it just doesn't happen. That's just Empire on home grounds."
With regards to her writing, Taneja's perspective as an author born in Britain to Indian parents means that she rejects the reductive simplicity of categorization and prefers to be seen simply as "modernist." She elaborates that she is influenced "just as much by Virginia Woolf and Joyce as [she is] by Salman Rushdie or Mahasweta Devi, or any of these people who stuck two fingers up to power through language". Those who influence her work are those who "try to show that, in breaking text and remaking words, we find new ways to express roots of culture which challenge what we think of as purity, and make something new."
Taneja's family history of migration has a complex effect on her ideas about identity. Taneja grew up in a household which still maintained an Indian identity through "comic books from India, epic tales in translation or music of Bollywood films on Sundays."
Indeed, questions and conflicts with regards to issues of identity seem to Taneja to be to some extent generational. She remembers that her "mother wore a sari or a shalwar kameez every day of her life almost. And she was an entrepreneur. The questions about identity we think about now, she wouldn't care. She was like: this is who I am and I can wear a sari and run a business. It didn't phase her whatsoever."
"We find new ways to express roots of culture which challenge what we think of as purity, and make something new"
Whilst Taneja recognises that when she visits India she is an "outsider" she maintains that her Indian identity remains very important to her, and "is something which no one can take away." British people of immigrant descent are often faced with the concept that they have "double identities".
Taneja, explaining this common concept, says some make the assumption that " you don't know where you belong and you've got no country." She roundly rejects such an idea, opposing the term "double identity" and preferring to view herself as occupying a "dual reality which I as a whole person navigate."
The role of women forms a key part of Shakespeare's King Lear, which is duly reflected in the way that Taneja approached her novel. We That Are Young, told from the perspective of three daughters and two sons, highlights the social and political shifts which have occurred in India since 1947.
A socialist economy until the 1990s and an engagement over the last couple of decades with the global market has led to a capitalist boom in India which, Taneja argues, has resulted in the rise of religious fundamentalism and "right-wing fascism." Such social and political force have led to an opposition to women's rights in India, but Taneja views this as ultimately doomed, with enough women in India now in positions of power due to decades of struggle for equal rights, and a growing 'Me Too' movement.
However, Taneja points out there is still a long way to go. "You can put an Indian woman in a position of power and she still will collude with the patriarchy because that's how tokenism works." Attitudes, she explains, are what will be most difficult to change. "We can try and change the law … but [that may not] implement in people's psyches and [can] carry on going behind closed doors."
Taneja always knew that she wanted to be a fiction writer – "it's my first love," she tells me. She reflects on how, as a British Asian woman growing up in the UK in the 1980s and 90s, she "just didn't have the examples around me to say 'yes you can do this.'" She adds that she "didn't have the belief and the validity of my own experience." Instead of starting to write fiction straight away, Taneja trained as a foreign correspondent reporting on human rights and conflict across the globe.
Although her journalistic experiences have influenced her writing today, Taneja describes her time as a reporter as "legitimizing wanting to be a writer" From the age of 22, Taneja spent five years caring for her ill mother. She describes the time she spent caring for her mother as living, for the first time, " in a world which we don't see in fiction, for example hospice carers and people who don't have jobs and what do they do all day."
Reviews of We That Are Young have tended to focus on what The Guardian described as its "unabashedly political" nature. It is this political aspect of the novel which I was interested in asking Taneja more about. Did she set out to write a novel which would be described as 'politically radical'? "I think it's the person I am," she responds. "I read somewhere a quotation which said you learn what kind of writer you are from the way that people respond to you.
"And suddenly people were saying 'oh it's very political', 'you're a political writer', and I was thinking no, I just wrote what I saw. I literally just put it down and I wrote with all the fury that I had."
"When I'm researching, I'm not setting up interviews and doing recorded pieces, I'm just hanging out in every situation I can possibly get myself into"
The inescapability of politics has been clear to Taneja from a young age due to her personal family history, which has been another great influence on her work. "My mother was born in 1947 just three months after the partition, in Delhi. So my grandmother moved from the territory that is now Pakistan to India, pregnant." These ideas of movement and its associations with loss have led to Taneja's "deep respect for the stories and lives of ordinary people" and also inspired her decision to base her novel on King Lear, a play she first studied at school aged 17.
"For me King Lear is an Indian story in such important ways. It's a parallel metaphor for partitions because it begins with the division of the kingdom, and one of the most important parts of it for me is the way all of the action drives towards this war at the end, which in the Indian context is mirrored with the conflict in Kashmir which has been ongoing since the partition in 1947 … for 71 years those people have been under siege."
Taneja spent a year in India researching before beginning the process of writing her novel, an experience which she says, along with her work with disadvantaged young people from across the UK, emphasised how for her "one of the skills [which] is most important for a writer is listening … when I'm researching, I'm not setting up interviews and doing recorded pieces, I'm just hanging out in every situation I can possibly get myself into."
She adds that whilst she avoids "speaking from the first-person perspective about the lives of people who have nothing," she used the novel to "look at power and how it keeps us in place … and people were going 'oh [the book] is so political. And I say, 'what isn't?'"
'How to write a politically radical debut novel (and win awards): a conversation with Preti Taneja' will be hosted by the Intellectual Forum, Jesus College on 6 February.
Updated, February 1st 2019: This article was amended to remove two quotations which did not fairly represent Taneja's views.
Varsity is the independent newspaper for the University of Cambridge, established in its current form in 1947. In order to maintain our editorial independence, our newspaper and news website receives no funding from the University of Cambridge or its constituent Colleges.
We are therefore almost entirely reliant on advertising for funding, and during this unprecedented global crisis, we have a tough few weeks and months ahead.
In spite of this situation, we are going to look at inventive ways to look at serving our readership with digital content for the time being.
Therefore we are asking our readers, if they wish, to make a donation from as little as £1, to help with our running cost at least until we hopefully return to print on 2nd October 2020.
Many thanks, all of us here at Varsity would like to wish you, your friends, families and all of your loved ones a safe and healthy few months ahead.