Residents debate 'no deal' Brexit as Wetherspoons founder comes to Cambridge
Tim Martin, a vocal critic of the Prime Minister's Brexit deal, was challenged by Cambridge residents that a 'No Deal' would be in the UK's long-term economic interests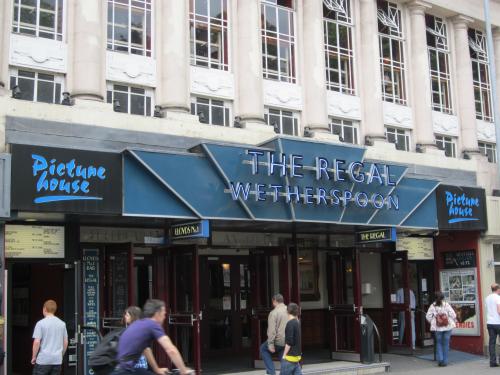 Tim Martin, the founder and chairman of JD Wetherspoon, faced scrutiny from residents over his Brexit position during his visit to the Cambridge branch yesterday, as he attempted to persuade pub-goers of the benefits of a 'No Deal' Brexit.
"The debate so far has been dominated by a London-centric view", he said, arguing that the UK government should not be seeking a deal with the EU at all costs, and that given the quality of the deal offered by Prime Minister Theresa May, "we're better off leaving with no-deal on March 29th."
Many audience members challenged Martin's optimism concerning a 'no deal' Brexit, with one man arguing, contrary to Martin, that the UK will not be able to negotiate its way out of paying the £39 billion 'divorce bill' in the event of a 'no deal'. The much-contested 'divorce' bill would cover outstanding financial obligations and liabilities with the EU, and is likely to come under international law that the UK pay the bill, according to Channel 4.
Martin Cahn, a councillor for South Cambridgeshire and supporter of a People's Vote on the Brexit deal, described Martin as "delusional". "He's relying on a vision of Britain in the past", he said.
The pub debate was predictably impassioned, given Cambridge's position as a Remain voter heartland. Market Ward, in the city's centre, saw the highest proportion of voters supporting staying in the European Union in the 2016 Brexit vote.
According to an investigation into national attitudes published in October, the Castle area of Cambridge, which houses a third of the University's colleges, is the "most liberal" place in England, while in November, CUSU Council agreed to officially support a 'People's Vote' on the final Brexit deal.
Other audience members, adorned in pro-EU paraphernalia, engaged in debate with Martin about the issue of political sovereignty, with one woman challenging Martin's claim that the EU Commission was "becoming increasingly undemocratic." Sam Owens, who owns the Cambridge pub Thirsty, argued that the impact of a no-deal Brexit on the pound would offset any price reductions offered by exiting the Common External Tariff policy.
Martin further dismissed as exaggeration the prospect of a lock-down at the port of Dover in the event of  'no deal'.
Research by academics at University College London in 2017 estimated that trucks carrying goods into the UK would face six-day queues to board ferries at the Dover port if processing times were delayed by just 70 seconds, the Financial Times reported on Monday. "Businesses will find ways to overcome [the short-term impact]," Martin claimed.
Martin's visit to The Regal on St Andrew's Street was part of his tour of Wetherspoons pubs across England and Wales this month.
The chairman of Wetherspoons is one of few high-profile business people to have come out as vocal supporters of Brexit. Wetherspoons has started distributing pamphlets in its pubs criticising the Prime Minister's Brexit deal, including one which reads "What don't you like about free trade, Mrs May?"
Vincent, a French national intending to start a business in Cambridge, noted that Martin was "very brave" to have come to the city to discuss his views. "I have friends here who voted [for] Brexit, and am trying to get a sense of the arguments", he said. "As I see it, there are arguments for and against, and it's good to see someone making the case."