Cambridge to offer non-repayable bursaries to estranged students
Both Cambridge and Oxford have committed to supporting students who are estranged from their families, with bursaries and additional vacation accommodation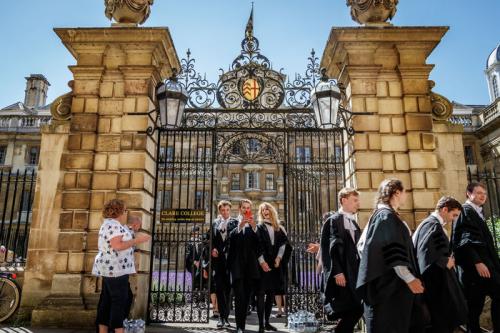 In a pledge letter to Stand Alone, a charity which supports estranged individuals, Cambridge today announced plans to offer estranged students a "non-repayable enhanced bursary", as well as access to vacation housing in college-owned accommodation.
Students who are classed as independent by the Student Loans Company will be eligible for an "enhanced bursary" every year for the duration of their course.
The University has also stated in the letter that "a dedicated member of staff" in the Cambridge Admissions Office will act as a contact point for estranged students to set out the University's support.
A full audit of current support measures provided to estranged students will be carried out next year, with further changes following afterwards.
Oxford University similarly pledged to improve the experience of students studying without family support, announcing that it will provide a non-repayable bursary of up to £7,200 per year to pay for vacation accommodation, with other students where possible, and offer unlimited access to counselling services.
In their pledge letter, Oxford had provided more detailed figures and plans than Cambridge.
Recent research revealed that 86% of students rely on some quantity of parental or familiar support during their time at University, but around 9,000 UK students lack any contact with their families, and are therefore left financially vulnerable during their studies.
Professor Graham Virgo, Cambridge's Senior Pro-vice-chancellor for Education, said that the University understands the "additional challenges" faced by estranged students and is "committed to helping estranged students meet their full potential at Cambridge."
Becca Bland, Chief Executive of Stand Alone, welcomed Oxford and Cambridge's commitment, saying that she hopes their pledge will "help more young adults at these institutions feel confident in coming forward to access the help and support which may level the playing field for them."
Cambridge and Oxford today became the eighth and ninth Russell Group universities to take Stand Alone's pledge.
A Varsity investigation in February this year revealed Cambridge students' struggles in the face of high rent costs. One student told Varsity that working throughout the holidays was necessary in order to support themselves independently, since rent takes up their whole student loan, and they were unable to seek familial support. Others described the difficulties faced obtaining financial support when urgent need arose, with one student remarking: "Hard-to-access bursaries aren't an alternative to affordable rent."
A common concern expressed was that the difficulty in affording rent "dampened" the Cambridge experience, making them feel "very insecure" about themselves and instilling the idea that they "do not deserve to be at Cambridge because [they] had to pay more to be at Cambridge."