Protesters call for rent control outside Cambridge Property Awards
Protesters comprised of both local residents and students, united in expressing discontent over Cambridge's housing situation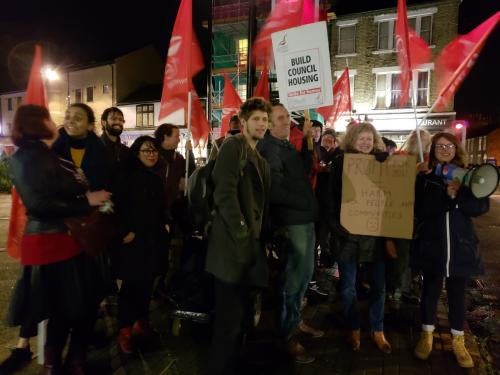 Around 30 protesters, including local residents and University students, protested outside the Cambridge Property Awards at St. Barnabas Church last night.
The rally was organised by local activist groups Affordable Homes in Cambridge and Please Help us to Save Our Homes in Montreal Square. Cambridge Defend Education also endorsed the rally on Facebook, and eight of its members were present at the rally.
Protesters voiced support for tenants to "stand up [and] fight back" against exploitation and called for rent control for properties in Cambridge. 
During the protest, church staff informed the protesters that they were "not allowed on the grounds of the church". Two security guards were stationed next to the protesters, and repeated told them to "clear the path" in front of the entrance.
Andrew Orsborne, a prominent local activist from Unite the Union, told Varsity that the city is "in the grip of a housing crisis" where starter homes are unaffordable and tenants are exploited by landlords and letting agencies.
He continued that the Right to Buy policy from the Thatcher era has worsened the problem, saying that while Cambridge is awash with development, "it's all the wrong sort of development" because the city needs more social and council housing rather than luxury housing.