New access initiative aims to 'level the application playing field'
InsideUni will share the experiences of current students, aiming to offer applicants a better insight into the admissions process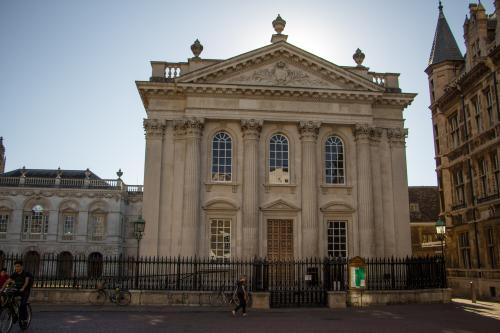 A new access project seeking to offer support to "applicants without access to uni insiders" has been launched, with a website detailing the interview experiences of Cambridge students, sharing useful resources and providing insight into student-life at the University.
The initiative, InsideUni, aims to use student testimonies to "reduce the informational inequality between students from different backgrounds." A survey is currently being circulated to gather information for the project.
The initiative's founders – 3rd year Engineering student Akil Hashmi and HSPS graduate Tommy Gale – want to get 500 respondents to their survey in order to convince the university to publicise the project on their social media channels.
The University's more than 2.5 million following – with over 2 million Facebook likes, 420,000 Twitter followers and almost 350,000 Instagram followers – likely includes many prospective applicants, as well as current students who might be able to support the project through describing their own experiences.
At the time of writing, InsideUni was just 24% away from reaching the amount of survey respondents requested by the University in exchange for their publicity.
Want to join Varsity's news team?
Try your hand at student journalism. Applications are now open for Varsity Senior News Correspondents in Michaelmas term
Co-founder Akil Hashmi noted that incoming freshers have been "some of the most vocal people" in providing answers to the survey and in detailing their experiences of the application process.
The project's short online survey asks about students' interviews, including their format and the styles of question asked. Respondents are able to recommend useful preparatory resources and advise prospective applicants on successful interview approaches.
Akil Hashmi, one of the initiative's founders, described InsideUni as an "important opportunity" to help those unable to access "word-of-mouth advice" about Oxbridge admissions.
He told Varsity that he was "excited" by the support shown to the project thus far, saying "there's so many students in Cambridge who really care about access and really want to help out less advantaged students" and emphasising that InsideUni offers "a very easy way to get involved with outreach efforts." 
Although he praised the University for their work increasing transparency in the application process, Hashmi noted that some forms of outreach are best done by students: "It's on us to do. We can't sit and wait for the university or external figures to act – it's current students who are best placed to support prospective applicants."
"It's on us to do. We can't sit and wait for the University or external figures to act"
Encouraging current students to share their experiences by filling out the project's survey, CUSU access and funding officer Shadab Ahmed wrote on Facebook, "let's show them student power", adding that the website might "help change the narrative around students and their involvement in University's access and participation plans."
Planning for the project began last December, and further expansion is planned for the coming term, with the founders hoping to speak with secondary school pupils, both to publicise the project and to help identify the key areas which must be addressed on the website in order to maximise impact.
InsideUni is aiming to tackle the concern that admissions remains dominated by the most privileged students and the top schools, an issue which has previously led to criticisms of the University's access efforts as insufficient.
A Varsity investigation this April revealed that more than half of students admitted to Oxbridge between 2006 and 2016 were educated at just 250 institutions, and more than a third at just the top 100 schools.
Last year, David Lammy MP described Oxbridge as "fiefdoms of entrenched privilege", highlighting the disproportionate lack of black students admitted to the two universities.
Last month, Varsity reported that Cambridge is considering rolling out fully-funded, "debt-free" studentships as part of an extensive access effort aimed at reforming the University's bursary system. The effort also includes an overhaul of the  system aimed at supporting students in the "squeezed middle".