Fresher campaigners elected as ethical affairs officers in contested race
Candidates Alice Gilderdale and Jake Simms emerged victorious following a five-day campaign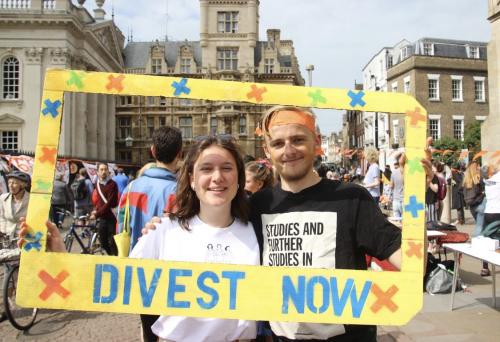 Alice Gilderdale and Jake Simms have been elected as CUSU ethical affairs officers in this week's by-election. This followed a focus on divestment in the candidates' campaigns, with all three candidates having been involved in Cambridge Zero Carbon activism.
The candidates continued to call for divestment in their manifestos, despite the University Council's decision last week to reject proposals for full divestment. Both Simms and Gilderdale mentioned their previous involvement with Zero Carbon's divestment campaign.
In her manifesto, Gilderdale said she hoped to "create a network of students working across different platforms", and would "provide support for Green/Ethical Officers to promote campaigns from within their JCRs", and promote University-wide events such as "Green Weeks" or "Green Festivals" across the year to engage students.
Simms said he would look to push for divestment by creating "effective templates and guides" for any students "wanting to push for change in their college". He also plans to organise a University-wide event for freshers where "people can get engaged with campaigning in Cambridge".
No one ran for the position of ethical affairs officer during Lent term, and so a by-election was scheduled for the end of Easter. The last ethical affairs election in Michaelmas 2017 saw 795 votes cast, with a severe reduction down to 454 votes in this by-election.
CUSU President Daisy Eyre commented on the lower turnout, saying "the end of Easter is a difficult time to engage students in an election." She expressed her wish that officers be elected alongside other sabbatical officers in Lent, and for this election to reset timings for the ethical affairs election.
Eyre also said she would like to see ethical affairs officers "better-integrated into CUSU structures", through having them attend position handovers, and having them "be in post by the time we elect their campaigns officers in Michaelmas."
The three candidates also all had previous experience on their respective colleges' JCRs. Gilderdale has been the Green Officer at Robinson for the last year, with Simms filling the same role at Christ's. The third candidate, Lydia Phillips, is Emmanuel women's officer.
The CUSU ethical officer runs the Ethical Affairs Campaign, which is aimed at raising "awareness of social and environmental issues" in the University, and to promote the reduction of the environmental impact of students and other University institutions.
They also promote the socially responsible use of students' financial resources either directly through students, or indirectly through the investmenting power of the University.
Ella Irwin, the Ethical Affairs officer for 2016-17, said that Ethical Affairs officers "are uniquely placed to represent students' views on sustainability, fair trade, democratic engagement and living wage within the University Administration. These are four crucial issues in Cambridge."