Students attempt to storm Old Schools
After the vice-chancellor refused to attend a joint student and staff rally, students demanded answers to their questions and briefly tried to occupy Old Schools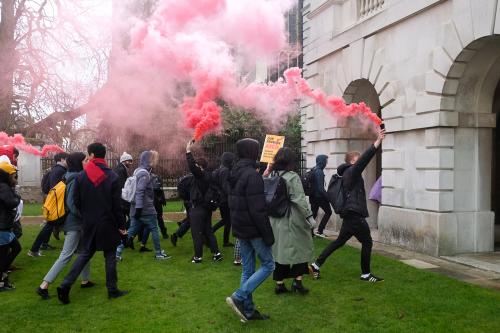 Students and gown-clad academics gathered to occupy Senate House lawn this afternoon, chanting questions to vice-chancellor Stephen Toope about central issues, beating on the doors of the Old Schools building and making a brief attempt to storm the buildings, as staff were seen watching from the windows.
Students also encircled the building, trying to get through the back entrances before seeing all doors had guards assigned to them.
To the sound of a saxophone, students danced and chanted, "Where's Toope?", while most academics hung behind. When it became clear that they were not going to enter the building, they promised to return next Tuesday.
Today's rally, which saw an estimated 200 staff and students gather, followed Toope's announcement yesterday that he will call the University governing body to take greater risk and cost in the short-term, though this has been perceived by many to be an inadequate response as he has not called to maintain the defined benefits scheme.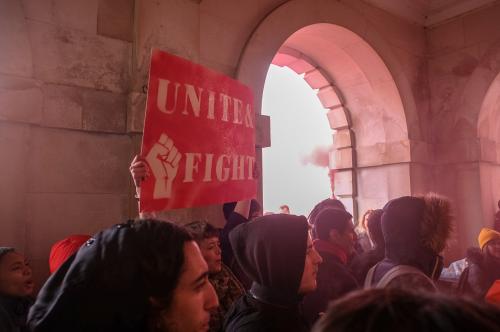 Amid a mist of drizzle and colour bombs, rally goers entered the centre of the crowd and shouted questions addressed to Toope: "When will men and women get equal pay at Cambridge?" in reference to International Women's Day (IWD), "why do you think it's okay to have a policy that surveys and criminalises Muslim students?", "why are staff on zero hours contracts?", and, at one point, "why the fuck do you have these things?"
UCU member Dr Anne Alexander called for escalation of the campaign next week, saying "Cambridge UCU will be calling out to the people we've been working with already […] to build a campaign that takes our democratic and just demands to the thousands of people in this university we know stand with us." The crowd echoed this call, rushing towards the doors of Old Schools.
Rallygoers challenged the vice-chancellor's handling of the ongoing strikes, asking: "Do you think the cuts are fair? Do you think the cuts are right?", "why is this university hiding behind the pension regulator?", and, "What is the difference between a USS valuation methodology and a USS valuation mythology?"
Students and staff demanded for vice-chancellor Stephen Toope to make an appearance to publicly respond to their questions, having formally invited him earlier this week. Ben Beach of Cambridge Defend Education addressed the rally on King's Parade, asking for an explanation as to "why our vice-chancellor has been so inept in creating this completely avoidable dispute about pensions", while "Oxford has recognised their response was woefully insufficient."
Lola Olufemi, CUSU women's officer, also addressed the crowd, reminding students that, "we should view this strike not as an inconvenience but as an opportunity to oppose the marketisation of education." She added that the strikes have demonstrated that Cambridge students have a "capacity for a radical kind of empathy," which has the "potential to shake this University to its core."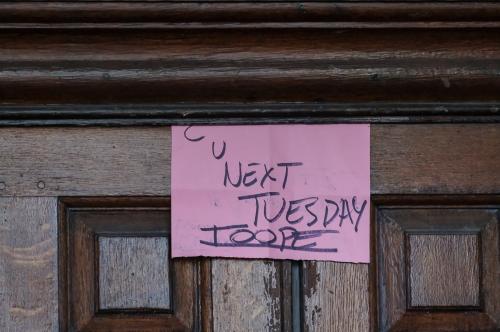 In reference to IWD, she told the crowd that "the institution would like us to think that it cares about women and non-binary people, [...] it does not, [...] not enough to defend our livelihoods." She maintained that "gender and race must be a core part of this conversation."
Waseem Yaqoob, University and Colleges Union (UCU) Branch Secretary, spoke on the subject as well, saying it is "obvious that this is about more than just percentage points [...] what's at stake here is the future of British universities as attractive places to work and to learn." He remarked: "it's incredible that we have these cadres of overpaid senior management who simply cannot understand the fundamental missions of these universities that they are meant to be managing."
In a statement, Cambridge Defend Education said: "Instead of addressing our concerns around democracy and accountability, Stephen Toope and university management barricaded themselves in their offices. It was a tale of two universities: students and staff setting out a radical, democratic and just vision of the University on the outside, while an unaccountable bureaucracy shut itself away, unable to defend its position, on the inside."
As the rally closed, one protester said: "We're going to keep on coming back."
If you have been affected by any of the issues raised in this article, the following information and support is available: