Academic misled by picketers claiming no students would attend his lecture
Lord Wilson was turned away by picketers claiming no students would attend his lecture, only to find out a full lecture room had awaited him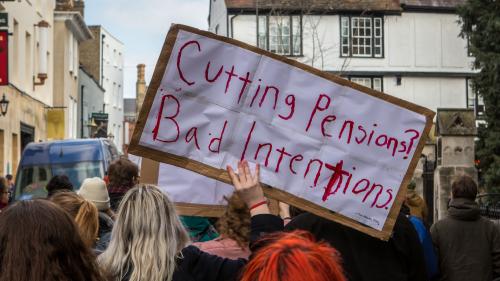 An economics lecturer, Lord Richard Wilson, was misled by picketers at Sidgwick Site this morning, where he was told that students would not be attending his lecture out of solidarity with the ongoing strikes.
He believed what he was told and turned back, whilst students awaited him in the lecture theatre.
One economics student, Paramvir Singh Khera, who turned up for the lecture, told Varsity: "The lecture room was in fact full."
In a statement to Varsity, Lord Wilson described his experience: "I got the impression from [the picketers] that their action had the support of the students union and that students were not turning up to lectures. If I had known that there was a full lecture theatre waiting for me I would have pressed through. But not having had any guidance about what was happening, I decided that the best thing was to withdraw.
"I should perhaps have pressed through to check no one was in the lecture theatre. But it would have been quite hostile of me to do that, particularly when I felt quite sympathetic to their cause."
He emphasised, however, that "Though a bit noisy, [the picketers] were not aggressive or intimidatory." He commented, "It was not a major event. My only regret, a real one, is that I did not give my lecture for which I apologise to the students. I hope to rearrange it."
Commenting on the atmosphere in the lecture room, Khera added: "Many first year economists are outraged due to Lord Wilson's wealth of experience and knowledge being taken away from them."
He remarked: "any feeling of sympathy and respect for striking lecturers and supporting students have been swept away by this threatening behaviour".
His sentiments were echoed by another student present this morning, Sanchit Agrawal, who told Varsity: "Picket lines are getting worse and worse."
Agrawal highlighted the Economics faculty's relatively low participation in the strikes, compared to other faculties, commenting: "how do I explain that our faculty isn't going on strike and so I'd like to go to my lectures? How do I explain that since my lecturers and supervisors don't have an issue with the new scheme, I don't either?"
Cambridge UCU's branch secretary, Waseem Yaqoob, told Varsity that although the branch is deeply concerned about cases of picketers' misconduct, in this case, "we are of the view that this incident was one of exaggeration rather than deliberate intent to mislead."
He explained: "As is their recognised legal right, our picket requested [that] Lord Wilson avoid crossing the picket line to deliver his lecture. He was advised that students were avoiding lectures in solidarity with staff", and that, "We know that this has been the case in many places on the Sidgwick site".
In light of the incident, the Cambridge UCU "[has] nevertheless now issued instructions to all pickets to be more careful about their description of the situation on the site they are picketing."
The Faculty of Economics has added that in light of today's events, they will try to reschedule the lecture.
Commenting on the picket lines in Cambridge, Wilson remarked: "My own view is that picket lines need to be properly managed. The picket should be at the side of the entrance, not blocking it. I ought to have had a choice: to walk past the picket, or to talk to them, or to go back. As it was, my choice was only to push my way through the crowd or turn away."
Lord Wilson served as president of Emmanuel College from 2002 to 2012 and currently lectures on 'Topics in Contemporary Political Economy' as a part of the Political and Social Aspects of Economics paper.
This morning's events occurred on the fourth day of industrial action over pension reform sweeping Cambridge. Apart from Sidgwick Site, picket lines have also been set up at the Downing, New Museums, Old Schools, and West Cambridge sites.
This article was updated to include a statement from the Cambridge UCU.