Lord Adonis: Toope 'blackmailed' Cambridge for pay hike
The University hit back at the Labour peer's "ill-informed and entirely unfounded" remarks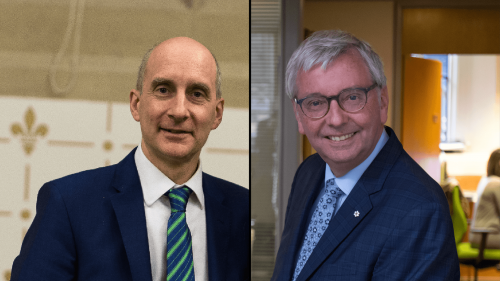 Labour grandee Andrew Adonis has hit out at Cambridge vice-chancellor Stephen Toope over his large pay packet in an exclusive interview with Varsity, published today.
Speaking after a talk last week to the Cambridge Universities Labour Club at St. John's College, the former transport secretary and education minister attacked Toope for his annual salary of £365,000.
"I don't think the University of Cambridge should be blackmailed by somebody from Canada – which, after all, let's be clear, doesn't have any universities which are as great as the University of Cambridge – into being paid an obscenely high salary," Adonis said.
In blistering criticism, Adonis said that Toope came "because somehow he was going to be paid more than for a Canadian university". He added that if British academics would take the job for less pay, and that if Toope admitted he accepted the Cambridge job for the high salary then "he should go back to Canada".
Varsity revealed last term that former Trinity student Toope, who was previously vice-chancellor of the University of British Columbia, would be paid £365,000 this year. Leszek Borysiewicz, the previous vice-chancellor, was paid £345,000 in the 2015/16 academic year.
Adonis insisted that he saw "no reason why the vice-chancellor of the University of Cambridge should be paid more than £200,000."
In a statement on Friday afternoon, a University spokesperson said: "While the University of Cambridge welcomes robust discussion about levels of senior pay, recent comments quoted by Varsity were ill-informed and entirely unfounded.
"Professor Stephen J. Toope was appointed to the role of Vice-Chancellor after an exhaustive global recruitment process. The Search Committee agreed that his impeccable academic credentials, and his exceptional record of leadership at world-class higher education institutions, would make him an outstanding Vice-Chancellor. It was on this basis that the University Council made the final recommendation for appointment. The Regent House concurred with that judgement.
"The suggestion that he in any way 'blackmailed' the University is simply untrue. The salary for the office of Vice-Chancellor was set by the University's Council on advice from its Remuneration Committee before the interviews even took place. There was no negotiation sought by Professor Toope or offered by the University about the salary at any point in the recruitment process."
The peer's criticism came while he was in Cambridge to rally student support for reversing Brexit through a second referendum. He has been outspoken on the issue since he resigned from his post as chair of the National Infrastructure Commission in protest over the policy of the May government.
Adonis made a second appearance in Cambridge last night, speaking in a Union debate against Jacob Rees-Mogg. He opposed the motion 'This house believes no deal is better than a bad deal', alongside Nicky Morgan, former Conservative secretary of state for education.
In the last six months Adonis has also become a leading critic of salaries paid to top administrators at British universities, using Twitter and his position in the Lords to criticise high pay and to call for lower tuition fees.
Adonis himself was central to the introduction of fees in 2004, when he was Tony Blair's head of policy. The Labour government allowed universities to charge students up to £3,000 a year. Since then, Lord Adonis has singled out highly-paid vice-chancellors, tweeting about a "pay bonanza at the expense of lecturers & students". He has called Brexit an act of "self-mutilation" and has compared its significance to "decolonisation in the 1950s and '60s and appeasement in the 1930s".
He has been criticised by many of his colleagues in the House of Lords for his comments on the government's approach to Brexit. Lord Cavendish, a Conservative peer, called Adonis' resignation letter "long-winded, petulant, and self-serving".
Update, 17:30, 9/2/18: This article was updated to include a statement by the University of Cambridge.