Telegraph issues correction following criticism of article on curriculum decolonisation
After the newspaper admitted it had published incorrect claims, Lola Olufemi criticised its attempt to 'misconstrue' decolonisation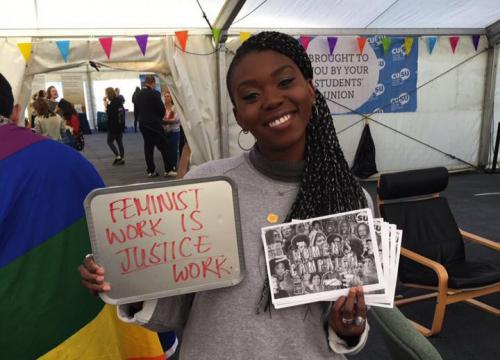 The Daily Telegraph has issued a correction after it received widespread criticism, including from the University itself, for an article it published yesterday about efforts to 'decolonise' the Cambridge English Tripos led by CUSU Women's Officer Lola Olufemi.
Today's correction states that yesterday's article "incorrectly stated that under proposals by academic staff in response to an open letter from students on 'decolonising' its English Faculty, Cambridge University will be forced to replace white authors with black writers."
"The proposals were in fact recommendations", it continues, adding: "Neither they nor the open letter called for the University to replace white authors with black ones and there are no plans to do so."
Separately, Olufemi appeared on BBC Radio 4's Woman's Hour this morning to discuss yesterday's coverage of the open letter she wrote in support of decolonisation, which she said had caused her "shock, and general dismay and disbelief".
Olufemi found herself at the centre of a national media storm yesterday after the publication of the Telegraph article, which was trailed on the paper's front page with a large photo of her alongside the caption "Student forces Cambridge to drop white authors". The story was picked up by other media outlets such as the MailOnline, and Olufemi received personal abuse on several platforms.
Olufemi, who wrote an open letter calling for decolonisation which formed the focus of coverage, condemned the Telegraph article as "riddled with factual inaccuracies" and said it had attempted "to misconstrue what the task of decolonising is".
She said that she had been "flooded with abuse" on her professional social media profiles, but added that this had been countered by "widespread support from people who understood that this was a very targeted form of abuse".
Olufemi received widespread online support from students, staff and the University itself on Wednesday, including from the master of Selwyn College, Roger Mosey. In a tweet, Mosey praised Olufemi, who graduated from studying English at Selwyn last year, as "a fine student" who "made an excellent contribution to the college and University."
There are ongoing discussions about decolonisation occurring simultaneously in several faculties, with campaigners pushing for greater inclusion of non-White authors and increased awareness of the effects of colonisation upon literature. Around 150 students signed Olufemi's letter, released in Easter term, which called for an end to teaching which "elevates white male authors at the expense of all others". Last Friday, Varsity reported that the English Faculty had begun discussions about how the suggestions in the letter could be practically implemented.
Speaking to Woman's Hour presenter Jane Garvey on Thursday, Olufemi criticised the Telegraph's "telling" decision to use her photograph on their front page, which she suggested had been made "as if to incite hatred".
Referencing the recent launch of the University's new campaign to tackle harassment and sexual assault, of which she is a figurehead, Olufemi continued, "The coverage yesterday took away all of the attention that should have been given to the way the institution was dealing with misconduct, and placed it on me instead."
Olufemi was also questioned on the subject of MP David Lammy's recent criticism of Oxbridge admissions statistics, which he said showed the universities to be "fiefdoms of entrenched privilege" for wealthy white students. While acknowledging the "social divides" that shape the opportunities of students both before and after they enter university, she said: "My experience of Cambridge has been a good one, purely because I was able to find spaces where I could politically organise with other people of colour. I was able to find spaces where I found support. I was able to get involved with shaping the curriculum they way that I wanted."
In a statement released yesterday, the University criticised the media coverage and ensuing harassment, saying that "We condemn the related harassment directed towards our students on social media as a result of the recent coverage."
The statement also refuted inaccurate claims made in the Telegraph's article, a criticism which seems to have led to correction printed today. The University said that "Changes will not lead to any one author being dropped in favour of others – that is not the way the system works at Cambridge. There is no set curriculum as tutors individually lead the studies of their group of students and recommend their reading lists – those reading lists can include any author."