Royal inauguration for new Jesus court
The Earl of Wessex inaugurated the newly built West Court, joined by his university contemporary, Vice-Chancellor Stephen Toope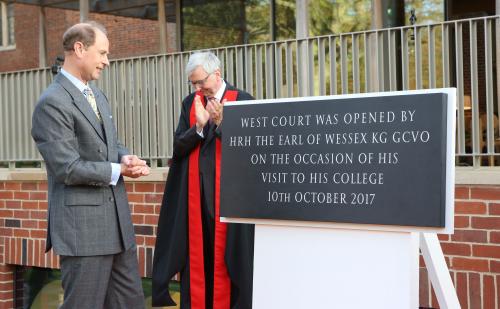 Prince Edward, Earl of Wessex, and son of Queen Elizabeth II, visited Cambridge on Tuesday to open the new West Court development at his alma mater, Jesus College.
The £13m project started in 2014, when Jesus College bought Grade-II listed buildings from a neighbouring theological college, Wesley House.
Professor Stephen Toope was also in attendance, in his first formal college engagement as Vice-Chancellor of the University.
The West Court development includes a new bar, brewery room, Junior Common Room (JCR), Middle Common Room (MCR), 180-seat lecture theatre, dedicated medical teaching teaching facility, and accommodation. West Court also houses the Cambridge Peking University China Centre and the Intellectual Forum, an interdisciplinary research centre directed by Clare College fellow and former Cambridge MP Dr Julian Huppert.
After his arrival by helicopter, the Earl was taken on a tour of the development by the Master, Professor Ian White, before unveiling a commemorative plaque.
In a new exhibition gallery, the Earl was shown memorabilia from his university days, including a Jesus May Ball programme from 1985, when he was part of the organising committee.
Prince Edward and Vice-Chancellor Toope were contemporaries at Cambridge, while Toope was studying for his PhD at Trinity College. The two acted alongside each other in a student production of Arthur Miller's The Crucible in Jesus College Chapel.
The Earl was admitted to read History in 1983, which attracted controversy at the time given his A-Level results of only a C and two D grades. At the time, his father, Prince Philip, remarked, "What a friend we have in Jesus!"
Jesus College was under tight security for the afternoon, with security personnel posted at every entrance, and non-members prohibited from entering the college.
Master of Jesus College, Professor Ian White, said: "We are honoured that The Earl of Wessex has officially opened West Court today. We are delighted to have shown His Royal Highness how the new facilities are already benefitting our students, academics and alumni; and how they will provide excellent facilities for visiting scholars from around the world.
"West Court is a truly ambitious development, and I would like to thank everyone who has been involved. In particular, we are hugely grateful for the widespread support and enthusiasm from our College alumni and friends who have donated so generously to the West Court appeal."