Revealed: More colleges hosted controversial Christian group
2017 is the fourth consecutive year the Academy, much criticised for its homophobic stance on key issues, has been hosted in Cambridge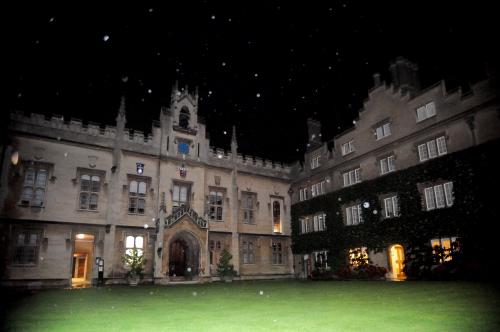 A Varsity investigation has revealed that Magdalene College hosted the week-long Wilberforce Academy in 2014, followed by Clare College in 2015. Varsity has also found that St John's College hosted the Wilberforce Academy Dinner in 2015.
It was reported earlier this month that Sidney Sussex College hosted the Academy in 2016 and 2017. This news prompted much controversy, with a petition to "Deny Tacit Endorsement to 'Christian Concern' at Sidney Sussex College" launched by Sidney Sussex College Student Union (SSCSU) LGBTQ+, women's, welfare and BME officers.
The Wilberforce Academy is an initiative of Christian Concern, a fundamentalist Christian group that have been criticised for the promotion of homophobic views. The Academy claim "delegates will be prepared for servant-hearted, Christ-centred leadership in public life, having been equipped with a robust biblical framework that guides their thinking, prayers and activity in addressing the issues facing our society."
Cambridge University Students' Union (CUSU) criticised the group for threatening "the safety of Cambridge's LGBT+ community, promoting homophobia and the idea that homosexuality is a 'disease' that can be cured".
Between 2010 and 2013 the Wilberforce Academy took place at Oxford University colleges. Since 2014 the Wilberforce Academy has been consistently hosted at Cambridge colleges.
A spokesperson for Magdalene College said: "The college did host this organisation in 2014." Magdalene College is shown in a highlights video of the 2014 Wilberforce Academy on the Christian Concern YouTube channel. UKIP member and 2017 candidate for Witney Alan Craig tweeted in 2014: "Back from @CConcern's visionary Wilberforce Academy @ Magdalene College Cambridge http://bit.ly/1m67pMh Bright young Christians #TheFuture". In a post on his personal blog, Alan Craig has referred to a "Gaystapo" of "gay-rights stormtroopers" with "Nazi expansionist ambitions".
The spokesperson for Magdalene College also said: "This was, as you will appreciate, a private booking and as with all bookings it doesn't translate that the views and opinions of the organisations reflect those of our College or indeed the wide variety of views held by its staff and students. The College maintains a positive and proactive approach to equality by supporting and encouraging all under-represented groups, and promoting an inclusive culture that values diversity across the College."
In 2015, Clare College hosted the Wilberforce Academy. A spokesperson at Clare College said: "We appreciate the concerns this private event booking has created. Clare is a diverse and inclusive community and we greatly value the LGBT+ initiatives taken in the College." A delegate posted on Instagram on the 31st August 2015 that "the #WilberforceAcademy begins tomorrow at Clare College", including the hashtag "#LoveCambridge".
With the 2015 Academy hosted at Clare, St John's College provided the venue for the 2015 Wilberforce Academy Dinner. In an Instagram post, one delegate said: "Here you see us The Wilberforce Academy Class of 2015 dining like Kings at St John's College at Cambridge University". Another delegate said in a captioned Instagram photograph: "Treated like kings and taught like scholars".
A spokesman for St John's College said: "This was a private dinner held at the College two years ago and no concerns were ever raised about it. St John's prides itself on being a diverse and inclusive community where all students are made to feel safe, supported and welcome. This is not just a matter of principle; it is integral to who we are as a College, and any event here must be undertaken with respect for those values."
However, in light of these developments, the chair of CUSU LGBT+ commented: "CUSU LGBT+ is sad to hear that the Wilberforce Academy was able to hold its dinner in St John's College in 2015. We believe that colleges, as renowned academic institutions, need to take responsibility for the legitimising power they exert when allowing external groups to use their venues. Every year, an increasing number of colleges accept to fly the rainbow flag on the first day of LGBT+ History Month, showing support for LGBT+ rights and welfare. We believe it is time for colleges to actively defend the values they claim to uphold, and not hide behind symbolic gestures of support."
Christian Concern have been approached for comment. Plans for the venue of the 2018 Wilberforce Academy remain unclear