Could you be a Varsity columnist?
Applications to be a columnist in Michaelmas 2017 are now open!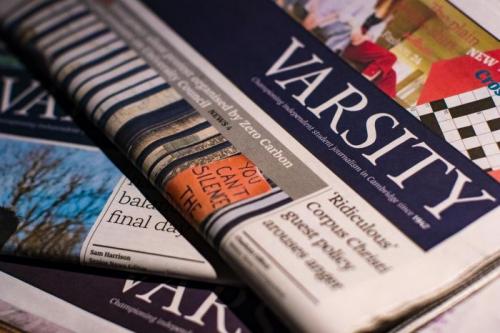 For 70 years, Varsity has been home to the most original, witty and topical student writing. From Sylvia Plath to Zadie Smith, with Jeremy Paxman and David Mitchell somewhere in between, writing for Varsity has been at the beginning of many great writing careers. Now it's your chance to make your mark by becoming a columnist in Michaelmas 2017.
What does a columnist do?
Columnists write an article per week for a term, based around a particular theme or idea. That's eight 800-900 word pieces in total. Recently, we've had columns on everything from class issues and postcolonialism to pop culture in Japan. It's a great way to build a substantial portfolio of writing.
What are we looking for?
We want interesting ideas, original takes and unique perspectives. You don't need to have much writing experience but you do need to be able to write intelligently and thoughtfully, developing your own distinct voice. Specific points are better than general waffle, and well-constructed arguments are better than rants.
We're looking for columnists for the Comment, Science, Features, Arts, Film & TV, Music, Fashion, Theatre and Sports sections, as well as Violet, our blog section, for which we're looking for something a bit more light-hearted and comic.
Freshers are particularly encouraged to apply - it's a great way to get involved with Varsity.
How to apply
Your application must include:
Your name, college, subject, year, and any extra-curricular or academic commitments you already have for Michaelmas 2017
A brief outline of your idea for the column, what it would be about, and what section you think it should go in (300 words max)
One sample column (800-900 words)
Five further ideas for the column
Send your application to applications@varsity.co.uk by 6pm on Wednesday 13th September. Please put 'columnist application' as the subject line. If you have any questions about applying, please email editor@varsity.co.uk