Calls for boycott as criticism of University Press grows
Cambridge University Press has come under fire for its decision to take down over 300 articles from its website in China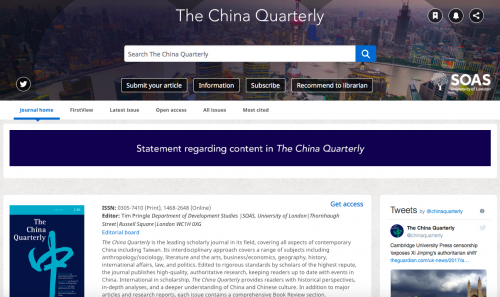 The decision by Cambridge University Press to pull over 300 sensitive articles from its website in China has come under strong criticism from journalists and academics, with some calling for a boycott of the publisher.
As reported by Varsity on Friday, CUP agreed to a demand by a Chinese state censor to take down articles and book reviews from the journal China Quarterly relating to topics such as the 1989 Tiananmen Square protests, Tibet, and the Cultural Revolution.
Many academics have spoken out in opposition to the move, with some saying they would no longer publish in CUP journals or books unless the decision was reversed. In an open letter, James Millward, a Professor of History at Georgetown University, said that the "decision to censor the journal China Quarterly as it is viewed online in China is a craven, shameful and destructive concession to the PRC's growing censorship regime."
He continues, "Cambridge University Press, on the other hand, is agreeably donning the hospital gown, untied in the back, baring itself to the Chinese scalpel, and crying "cut away!" But even this metaphor fails, since CUP is actually assisting, like a surgical nurse, in its own evisceration."
The letter finishes by telling CUP that if they continue to sacrifice their  "academic integrity on venal or faux-pragmatic grounds", they could not "rely on our [academics'] continued respect and cooperation."
Professor Craig Scott of York University in Canada also threatened CUP with a boycott.
Professor Hans van de Ven, Professor of Modern Chinese History at the University of Cambridge, described the development as "deeply disturbing", though did not criticise CUP itself.
In a statement, he said "For me, as someone concerned mostly with events in China, it is the deepening ideological grip of the Chinese Communist Party on Chinese media as well as on Chinese university campuses that I worry about most, and have now for a number of years.
"My colleagues in China are suffering from a radical narrowing of the space for research, archives have been closed, and some of colleagues have left or are trying to leave China. The change here seems to be that the Communist Party is asserting itself beyond Chinese borders."
This sentiment was echoed by Tim Pringle, the editor of China Quarterly. Speaking to The Guardian, he said "I think this is more about the configuration of the current leadership. It is a reflection of the Xi Jinping era. It's a stronger shade of authoritarian government that is less pragmatic, or certainly appears to be less pragmatic [that the previous administration]."
The growing criticism comes after a list of the removed pieces became available. They include a piece by the acclaimed historian Frank Dikötter, who has written on the Great Famine and the Cultural Revolution, as well as several pieces on Tiananmen Square by the China specialist Andrew J. Nathan. Work by James Millward also appears.
I witnessed the Tiananmen massacre. China denies it happened. Now @Cambridge_Uni Press seems willing to go along with the Chinese approach.

- John Simpson (@JohnSimpsonNews) August 19, 2017
The decision has also come under fire on social media, with the BBC's World Affairs Editor, John Simpson, tweeting, "I witnessed the Tiananmen massacre. China denies it happened. Now @Cambridge_Uni Press seems willing to go along with the Chinese approach."
Louisa Lim, a former BBC and NPR correspondent and the author of 'The People's Republic of Amnesia', said in a tweet "This is appalling. A clear example of the profit motive being valued over academic freedom, and by an academic publisher as well."