Cambridge Engineering students create Row-Bot
Cambridge Engineering students create a rowing robot designed to row down the River Cam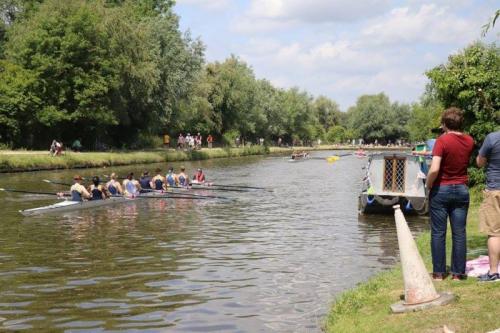 The University of Cambridge is no stranger to rowing, having won the annual Boat Race 82 times. Now, though, a team of engineers from Peterhouse College have taken it one step further, creating a 'Row-Bot' - a rowing robot designed to row along the River Cam of its own accord.
Although it was a student-led project, the Row-Bot was masterminded and presided over by Peterhouse research associate, Dr Andre Rosendo, who revealed that he came up with the idea after a dinner conversation with Adrian Dixon, the former Master of Peterhouse, in 2016.
Speaking to Cambridge News about the invention, Rosendo said, "Peterhouse is the oldest college and has a long-standing tradition on rowing, and after hearing me talk about my research in robotics, Adrian proposed that we could also be the first college to create a rowing robot."
Rosendo worked over eight months with a group of student engineers interested in robotics - Jonas Kalda, Billy Zhang, Simon Buchele, and Erika Teichert - to finish designing, building and testing the robot.  
Created by the installation of a rowing mechanism into a single scull, the movement of the horizontal oars, along with the robot's feathering and squaring mechanisms, was generated by two electric motors. The robot was constructed on a budget of just £500, but Rosendo is confident that the new Master of Peterhouse, Bridget Kendall, "would be more than happy to invest more to guarantee Peterhouse's hegemony on the river."
Rosendo also recognises that the project, while improving individual skills, would be useful at a nationwide level if carried out elsewhere: "The changes in the job market that will be experienced in the next few years can probably be compared to those seen during the Industrial Revolution, and the strive for a higher level of education will keep the workforce updated of such technological changes."
It is clear that Peterhouse - although understandably proud of their invention - are by no means in favour of being the only college to have such a robot: "We would be thrilled if other colleges - or even Oxford - stepped up to the competition and [built] their own versions to challenge our current sovereignty in the river."
Speaking to Varsity, Ms Bridget Kendall talked about the Row-Bot, "Peterhouse is delighted with Andre's invention. What an achievement!" She spoke of Rosendo's commitment to the project, revealing that he "also got involved in the Boat House, as he argued he had to learn how to row himself before he could get a machine to do it."
This decision benefited Peterhouse in more than one way: "The upshot was not only the amazing row-bot, but [Andre] helping to organise a third Peterhouse men's boat for last term's May Bumps - though the crew and cox were all human."
However, Kendall teased that there would be the potential for further development: "A row-bot that can race and bump is a challenge further downstream..."