CUSU BME campaign head in Twitter controversy
Jason Okundaye's response to Dalston protests causes heated Twitter comments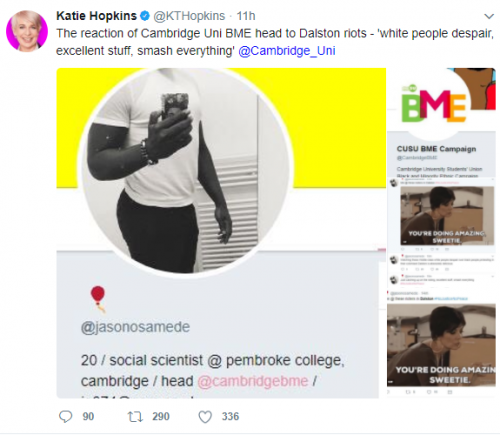 The head of CUSU's BME campaign sparked controversy last night over a series of provocative tweets about protests taking place in Dalston at the time.
Jason Okundaye's comments provoked a widespread reaction on Twitter, with some users racially abusing the student.  
In a series of tweets, now deleted, Okundaye said that "ALL white people are racist. White middle class, white working class, white men, white women, white gays, white children they can ALL geddit."
He followed it with "I hope that all the white middle-class gentrified get rushed in ends tbh cba,  you lot need to go back to Solihurst or Exeter or whatever."
Okundaye later deleted the tweets, and changed his Twitter bio to remove mention of the fact that he is head of CUSU BME Campaign, and studies at Pembroke College.
This morning he also clarified his earlier tweet, tweeting "By 'geddit', I mean they can all get called out for racism, before someone else @s the police bye". He later made his Twitter account private.
Demonstrators were gathering in Dalston, East London, to protest the death of Rashan Charles, a young black man who died after being pinned to the floor by police officers. Protestors blocked a road and threw debris at the police.
Earlier in the evening, in tweets that remain on the site, he said: "Just caught up on the rioting, excellent stuff, smash everything #NoJusticeNoPeace".
"Watching these middle-class white people despair over black people protesting in their colonised Dalston is absolutely delicious."
That was followed by a tweet captioned "Me @ these rioters in Dalston #NoJusticeNoPeace" with a GIF of Kris Jenner saying "You're doing amazing sweetie".
Last night, the right-wing columnist Katie Hopkins tweeted a selection of screenshots of Okundaye's tweets.
Okundaye responded this morning by tweeting "Good morning everyone except Katie Hopkins".
He also retweeted some of the abuse he had received on the site, with one user tweeting "I hope you die in your sleep".
Another said that "you should be kicked out [of Cambridge University] for supporting terrorism."
A University of Cambridge spokesperson, on behalf of Pembroke College, said: "The College is looking into this matter and will respond appropriately."
Varsity has contacted Jason Okundaye for comment