Petition launched for Murray Edwards to host AIDS Memorial Quilt
A recently graduated student has called on Murray Edwards to host the Quilt, which is the world's largest community art project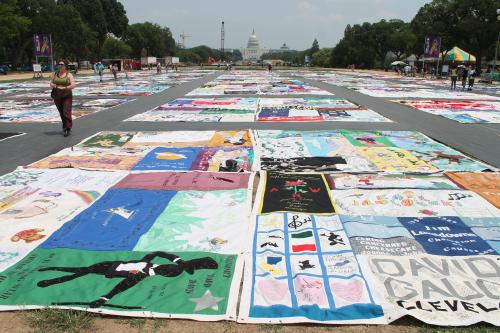 A petition has been launched by a recently-graduated student in order to support a formal proposal calling on Murray Edwards College, University of Cambridge, to host the Names Project AIDS Memorial Quilt.
The Quilt is the world's largest community art project, commemorating and celebrate the lives over 48,000 individuals who have died of AIDS-related causes. At a weight of over 54 tonnes, the art piece is too large to be displayed in one place, so individual panels can be requested to be displayed in venues.
Each panel is 12 square feet, and features independent parts which were made to memorialise an individual who had died of AIDS.
The petition has received growing support and has even been backed by Cleve Jones, a gay rights activist who first conceived of the idea in 1985. He then launched the project in 1987 as a memorial, because many of those who died were denied legitimate funeral rites.
Peter Tatchell, a British human rights activist known for his work with LGBT social movements, has joined Jones in supporting the petition by signing it.
Alice Mottram, who recently graduated from the college and started the petition, spoke to Varsity.
"I've been interested in the culture of the HIV/AIDS crisis for a while," she said, "and hosting The Quilt is a way in which more people can access that history.
"Particularly as a lesbian, I want to honour the role that lesbians and women took during the crisis as carers and advocates for the sick."
She continued: "It is also a way in which we can have a conversation not only about the crisis historically, but also about the ongoing threat it poses to members of our community and worldwide. There is an ACT UP poster which reads 'THE AIDS CRISIS IS NOT OVER', and that is as true now as it was when designed in 1988."
Mottram hopes Murray Edwards College will be the first to host the Memorial Quilt, after which she hopes to expand this project to include other colleges.
However, the recent English graduate emphasised that the petition "can only place pressure on the College to host The Quilt if it is clear that it has support from the student body, of both Murray Edwards and others across the University."