Analysis: Local elections 2017 – what we know now
Following Thursday's county council elections, Varsity's Matt Gutteridge considers what the results in Cambridgeshire tell us about the general election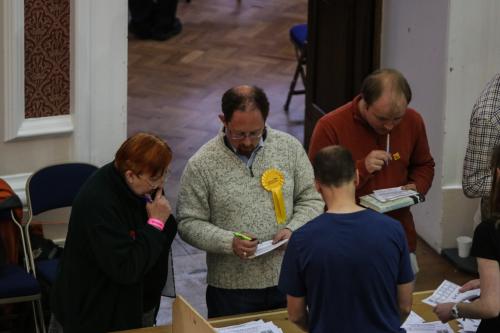 On Thursday, Britain went to the polls to elect county councillors and six newly created mayors. In just five weeks time, they will be back to choose the next government of the United Kingdom.
Consequently, the local elections, normally a low-interest sideshow, have this year been transformed into a crucial bellwether, offering a rare insight into the mood of the country in the run up to the election.
We should, of course, be cautious of reading too much into this. Local council seats have a small electorate, and an even smaller turnout. Boundaries are often different between local and national elections - and to confuse matters further, the county council boundaries have been redrawn entirely since 2013. As a result, individual results can often surprise, and paint an unrealistic picture of how things will unfold on June 8th. Caveats in place, here's what stuck out for me from the local elections in Cambridgeshire:
First rockfall
It's not a landslide yet, but it's looking like it might be. The redrawn boundaries make it difficult to say just how much better the Conservatives did in Cambridgeshire than in 2013, but the BBC estimates a like-for-like increase of 8 seats. Their share of the vote is certainly up, from 34 per cent last time to a shade over 40 per cent.
These results are good for the Conservatives, but not spectacular. Given the extent of their opinion poll lead, they might have expected to have done a little better than that. Despite running the Lib Dems close, the Tories did not do quite well enough to win districts like Brampton & Buckden, Gamlingay, and Huntington North. It was results like these that has led pundits to suggest that the Conservative majority won't be the landslide that many were predicting.
But this only tells part of the story. Local elections are traditionally used to protest against sitting governments, and tend to understate general election performance. Theresa May's party won more than 550 new councillors nationally, almost unprecedented - incumbent Prime Ministers would normally be satisfied to finish a local election down by 550. Combine that with the fact that the Tory vote, which currently stands 20 per cent higher than Labour's according to Electoral Calculus, has traditionally been understated rather than overstated in opinion polls, and it confirms what most people have known for some time - this is going to be a very good election for the Conservatives.
Not that this will make much of a difference in Cambridgeshire - six out of seven constituencies are already held by the Conservatives, and all but one of these by a majority of more than 10,000. It is significant nationally though - one senior CUCA member told me while local election votes were being counted that Theresa May's majority "could be as big as Thatcher's". They may well be right.
Cambridge a key battleground
The other thing we all already knew is that the Cambridge constituency is going to be close. What we perhaps didn't know until Friday was just how close. Just 105 votes separated Labour and the Liberal Democrats across the twelve city districts. The Lib Dems just edged the popular vote (12625 to 12520) but Labour won slightly more seats (7 to 5). It is hard to overstate just how finely poised the contest is.
The momentum seems to be with Julian Huppert's campaign - the Lib Dem vote is up by almost 10 per cent and the Labour vote down by almost an identical amount. It is possible that this indicates that the crucial swing voters are currently leaning towards the Lib Dems, and, as Huppert only needs to convince 300 people who voted Labour in 2015 in order to unseat Daniel Zeichner, it will not take much to tip the scales.
Thursday's elections do however paint a slightly false picture of the constituency. That's because Queen Edith's, considered a part of Cambridge for city and county council elections, is part of the neighbouring South Cambridgeshire constituency for national elections. Queen Edith's has historically been a Lib Dem stronghold, and was their biggest win in Cambridge itself this time too, making the absence of the district for the general election a big loss for Julian Huppert. If you discount Queen Edith's, Labour won the popular vote by 611 votes, a confidence boost for the Zeichner campaign.
Although there was an unusually strong turnout for these local elections, perhaps in anticipation of June 8th, voter numbers are still well down on what we would expect to see in a general election. With margins as tight as this, those who did not vote at all on Thursday may well hold the balance of power.
The Purple Reign is over
UKIP were never more than a passing curiosity in Cambridge anyway, but they are now officially dead. Circling the drain since winning the Brexit referendum last June, the party has seen its support in Cambridgeshire drop from 21 per cent to just 4 per cent, and they lost all of the ten seats they held on the County Council.
Three last place finishes in the three city districts where UKIP bothered to field a candidate shouldn't come as a surprise, but much more serious for the party is the failure to maintain support in the Fenlands. This is the Brexit heartland, and UKIP won some healthy looking majorities here in 2013 - if they can't win here, they're not going to win anywhere. The results are particularly crushing for leader Paul Nuttall's personal hopes of being elected in Boston and Skegness, just to the north of Cambridgeshire