Facebook row sparked after Drury claims he introduced hobs
The CUSU presidential candidate has admitted to deleting a Facebook comment questioning his involvement in the roll-out of hobs in Gonville & Caius kitchens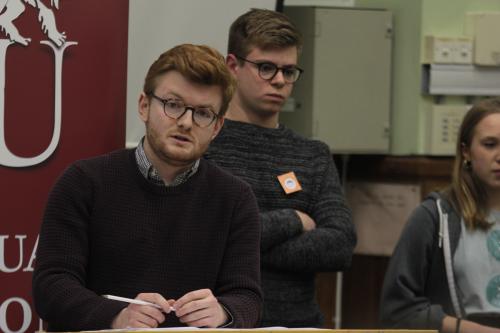 CUSU presidential candidate Jack Drury has faced claims from a Facebook user that he was not solely responsible for the introduction of hobs at Gonville and Caius College.
Drury has made his experience as Housing Officer on Gonville & Caius Students' Union (GCSU) a key part of his campaign, and has touted the installation of hobs in college accommodation as a key success in the post. He published a Facebook post yesterday quoting a supporter who praised Drury for his "complete success" in tackling "the seemingly impossible task of getting hobs for Caius students".
Facebook commenters were quick to question this claim, however, with one attributing the roll-out of hobs to the work of Jack Fellows, who was president of GCSU in 2014-15, and his committee.
Drury posted screenshots of committee meeting minutes from April 2016 in response, along with a spreadsheet detailing specific hob installations. A Facebook user who claimed to have been present at the meeting where hobs were eventually approved affirmed that there was "absolutely no evidence of any work done" on the matter before Drury's term as GCSU Housing Officer.
Jack Fellows responded by clarifying that there were two separate hob rollouts, with approximately eight hobs being introduced when Fellows was JCR President. He commented that Drury had had "significantly more success", overseeing the introduction of "a further 50+ hobs" in his term as Housing Officer.
Speaking to Varsity last night, Drury said: "I stand by Jack Fellows' statement and the evidence put forward". He added that he was "also happy to call it fake news".
Users alleged that previous GCSU Vice-President Gerda Bachrati had also commented on the post, but that her comment had since been deleted. One wrote: "Give the girl a right to reply! Or is that not your leadership style?"
Bachrati has herself taken up these claims. She told Varsity this morning: "Instead of replying to me, he deleted the comment and blocked me, [and] obviously decided that what I had to say wasn't worth his time."
She went on to voice her agreement with Fellows's comment, adding: "much of the fight had been done two committees before Jack Drury was ever involved in the GCSU".
Referring to allegations that her comments had been deleted by Drury, Bachrati said: "I think it's disgusting that instead of answering me with a simple reply, he's gone out of his way to make me look weak and voiceless by blocking me off the post." She added: "He shouldn't be dismissing valid comments, and he shouldn't be silencing people just because they've challenged him."
In response to Bachrati's statement, Drury told Varsity: "I didn't have time to engage when [her Facebook comment] arose so just got rid of the attempted smear. In any case, Gerda has very convincingly been demonstrated to be wrong. I was very grateful to the Caians who backed [my] case; and if I were petty, would invite people to count the comment likes."
This comes on the morning of the final day of campaigning in what looks set to be a tight presidential race. Voting closes at 5pm tonight.
Varsity has contacted GCSU for comment
Comprehensive elections coverage
The latest news and analysis on the CUSU Elections, all in one place.
Visit Varsity's Elections 2017 hub.