Presidential candidates make their case at hustings
On the eve of voting opening Eyre, Drury and Murison clashed over mental health, funding and engagement with CUSU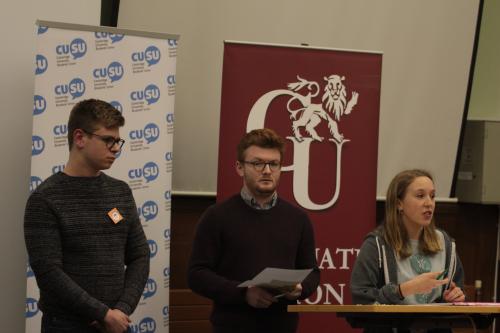 The three candidates competing for the role of CUSU president took to the lectern on Monday evening to promote their respective candidacies.
 Daisy Eyre, Keir Murison and Jack Drury each gave two minute speeches to an audience of student and campaigners at Mill Lane lecture rooms, followed by a question and answer session. 
The first presidential candidate to speak was CUCA and 'Save the Class Lists' Jack Drury, who opened by discussing the "squandered" potential of CUSU, vowing to "spend a year proving that CUSU can be better and more relevant".
"I am the candidate that offers an alternative...I will make CUSU work for you, because it can."
Next was Daisy Eyre, who announced that she was running "for all the students who are done with accepting all systematic problems", vowing to fight the status quo by focusing on access, mental health and student workload. The former JCSU president outlined her commitment to a "fully fledged" support network for intermitting students, comparable to the current system at Oxford. "I have the leadership skills and abilities to make these changes. I will be focussed on the intersections and interchanges of Cambridge life".
Keir Murison emphasised his three-pronged policy approach, stressing that he is not a "one issue candidate", and would seek student input in order to "equalise" college policy. "I will make sure that we are actually doing the things that students want us to do" said Murison, taking questions to the student body first, before turning to CUSU Council.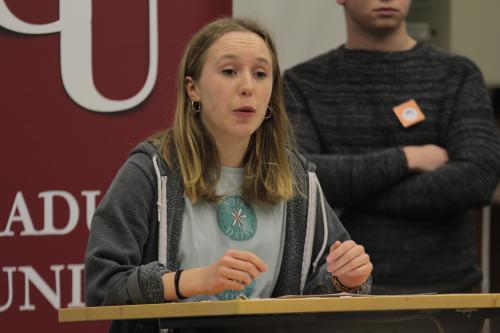 The three candidates were asked which policy they would hypothetically drop for pragmatic reasons, given that the presidential term is only a year long. Drury forthrightly asserted that he would turn his back on "Wednesday afternoons", while Murison admitted to the possibility of administrative difficulties with his proposal of student workshops, saying he would prioritise the process to "take away college disparity". Eyre was last to respond, saying she would begin her review on Access in Cambridge but expect the 2018-19 President to see the process through.
Next, the candidates were questioned on divestment, with the questioner pointing out that the CUSU president is mandated by council to fight for divestment.
Eyre would "take an active stance" given CUSU's mandate, rather than "just waiting for it to be brought up". Murison pointed out the issue of confidentiality, and vowed to work with zero carbon in order to move forward in the divestment process, while Drury responded with concerns for the "cost" of divestment on teaching.
When questioned about recent rises in instances of anti-semitism on campus, Eyre vowed to represent the "voice of every student", especially the disenfranchised. Drury was next, drawing upon his conversations with JSoc to justify his demand for the Vice-Chancellor to "act now", and the need for CUSU to work with autonomous campaigns. Murison continued Drury's train of thought, expressing the imperative of targeting "unconscious bias" to ensure that autonomous campaigns "feed in" to major CUSU policy, especially on "incredibly worrying" issues such as anti-semitism.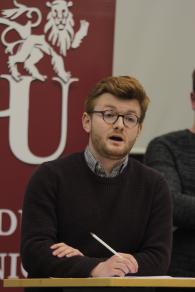 Another question from the floor asked the candidates to address the specific issues faced by disabled and intermitting students. Drury pushed the need for the role of president to "be the voice of harmonisation on intermission", instigating conversations within and between colleges. These sentiments were expanded upon by Murison, who said he would work to make disabled and intermitting students feel included in decision-making processes. Finally, Daisy Eyre stressed the need for "communication" and for intermission policy to sit "at the heart of what CUSU is doing". Murison responded to Eyre by adding the need to pressure the university to be "open", expressing his concerns over the "really, really distressing" student testimonials.
Predictably, the next question related to "dire" student participation in CUSU, to which Murison and Eyre said they would encourage dialogue between students, faculties and societies. "We need to talk to people", said Murison, "but it's who you talk to and how you go about it that's important." The responses of Drury's opponents elicited his fiery disbelief at the 15% voter turnout. "I don't know how any one of us can stand up here and not be embarrassed", he said, "talking not doing".
Murison responded to Drury's claim to "transparency" through his online diary by suggesting this was ignoring students, saying, "we can't get a CUSU that adapts and changes." dialogue came to an end with Drury's quick response, "I wouldn't be here, pitching myself to the electorate, if I wanted to ignore the students."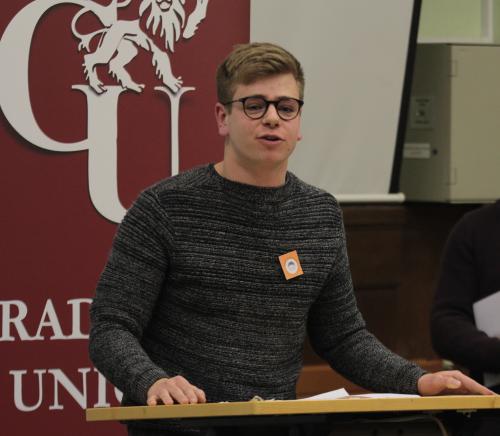 When asked to reflect on their experiences of CUSU Council and suggestions of possible changes and improvements, Eyre was quick to stress that she has attended council "almost every other week" under Presidents Priscilla Mensah and Amatey Doku.
Drury deemed CUSU Council a "consistently late bureaucratic monolith", wherein development figures such a Daisy had been given an opportunity to instigate reform, but had failed. Murison responded by stressing the importance of finding out what people think, followed by Eyre's rebuttal to Drury, that "constitutional changed enabled me to make the changes I wanted to make". She declared, "I laid the groundwork for what I want to do with CUSU council."
The candidates were questioned on proposals of a new funding system for CUSU, which have met with substantial barriers. All three candidates were broadly in favour of the proposed changes. Drury emphasised the need to discover "whether CUSU can be said to represent value for money". He also expressed his wish that his own college, Gonville & Caius, would re-affiliate to CUSU "if I do my job properly." The college disaffiliated mainly due to concerns that the affiliation fee did not represent value for money. Murison stressed the need to "take the burden off JCRs" by establishing a more equitable  funding system, but said that he would "need to look into more extensively". Eyre said that not passing the new funding policy would be "letting down future generations of cam students".
The last question from the audience was from current CUSU president Amatey Doku, who chose to continue the theme of funding by highlighting the fact that Cambridge has the least-funded student union of any university in the Russell Group.
He questioned the candidates over how they planned to lobby for more funding for CUSU, and how they would respond to the inevitable "bad press" CUSU would receive when insufficient funds resulted in inaction.
Murison returned to his favoured theme of communication by explaining that "it's about showing the uni and showing the student body that CUSU is value for money." However, he accepted that "bad press is going to happen; it's CUSU." Eyre went further in stressing the "deeply structural" issues faced by CUSU, which mean that fundamental reformation is necessary.
Finally, Drury took to the lectern to criticise previous "incompetent management of funding," including the recent failure to accurately estimate the NUS affiliation fee, which he deemed an "embarrassment."
Hustings for the role of University Councillor will be held tomorrow (Tuesday) evening at 8pm. Voting for all positions will open on Tuesday at 9am.
Comprehensive elections coverage
The latest news and analysis on the CUSU Elections, all in one place.
Visit Varsity's Elections 2017 hub.