Policy Matrix: What do the CUSU presidential candidates believe?
Varsity breaks down the candidates' policies on the key issues such as the curriculum, boycotting the NSS and Cambridge's relationship with the NUS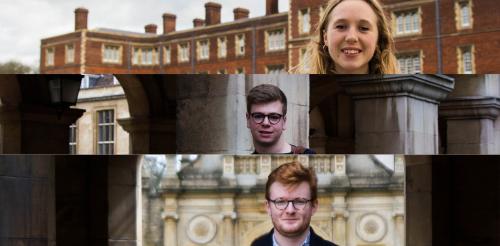 Three candidates have put their names forward to be the next CUSU President, but what do they think on the major issues facing CUSU today? Varsity compares their beliefs on five key policy areas.
What should CUSU's relationship with the National Union of Students be?
Jack Drury: This is something for CUSU Council to decide collectively, not for the President to dictate. Would not make mistakes like the recent underestimation of affiliation fees.
Daisy Eyre: CUSU should retain its NUS affiliation; however, would back a second referendum if council remains unsatisfied with the fee increase.
Keir Murison: Murison says he is "concerned" in the wake of the anti-Semitism controversy. He respects last year's vote to remain affiliated, but stresses the need for change.
Should education be free?
Jack Drury: Yes, without qualification. Learning has its own value and no-one should be barred from university for want of funds.
Daisy Eyre: Yes, but there is little that CUSU can do in this regard. Strongly against differential fees implemented under NSS.
Keir Murison: Although he agrees that university fees should be covered "at some point" by the government to ensure access for all, Murison stresses the need for "some form of repayment."
Should Cambridge students boycott the NSS to try to prevent a fee rise?
Jack Drury: CUSU has been focusing too exclusively on this. In principle, we ought to consider the 'value added' on a Cambridge degree.
Daisy Eyre: Supports continuing boycott, which is "quite clever" because the clout of CUSU President can have an impact on a national scale.
Keir Murison: Boycotting the NSS, Murison believes, leads to a lack of data to quantify the opinion of the student body. He does however oppose (albeit tentatively) the TEF.
Is Cambridge's curriculum too white?
Jack Drury: It's a good thing that the curriculum is changing and students should have input into their curricula, stops short of SOAS, where students have recently called for white philosophers to be largely removed from certain courses.
Daisy Eyre: Curriculum is too white, would look to build on the reform already being done in HSPS.
Keir Murison: There is a need for "greater conversation" on the issue, particularly around whether decolonisation should be an "active" or "passive" process.
Should Class Lists continue to be published?
Jack Drury: Would implement a simplified opt-out system, which should not be difficult to do: would try to make it available through CamSIS.
Daisy Eyre: Should not be public, as they can be "distressing" for students. Believes them to be illegal under data protection laws.
Keir Murison: Although the lists themselves were "never the most important topic," Murison has supported their complete abolition. He now vows to respect the result of the referendum
Comprehensive elections coverage
The latest news and analysis on the CUSU Elections, all in one place.
Visit Varsity's Elections 2017 hub.