News in Brief: Lent Week 5
The return of the Cambridgeshire 'hovertrain', an overeager bookworm, fierce competition for Professorship of Play and thirty-year-old Union drama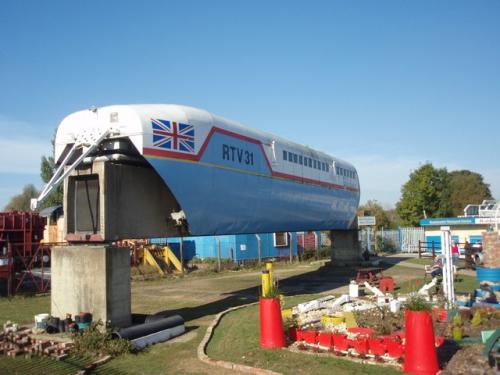 University project promises to refloat 'hovertrain'
A new University project is aiming to continue an abandoned 1960s plan to build a 'hover-train' in Cambridgeshire. The hovertrain was to use magnets and cushioning to travel at 300 miles per hour, but in 1973, after six years and millions of pounds of government funding, it was abandoned due to lack of progress in creating tracks in the soft fenlands. Recently, however, the Cambridge Archaeological Unit of the University of Cambridge stumbled across a promotional film for the project, and there are now hopes that the hovertrain might race along the fens after all.
Cambridge Waterstone's branch accidentally locks man in
The Cambridge branch of Waterstone's on Sidney Street has apologised to a man who was locked in the shop on Monday. Oliver Soskice said that he had been browsing on the upper floors of the shop when he found himself trapped in the branch with the alarm ringing. It took an hour for a manager to come and free him. Soskice responded good-humouredly, saying: "There are worse places to be trapped than in a Waterstone's." He apparently found himself in a similar situation in the UL last month.
Harris hawk halts Trinity clock
The historic clock of Trinity College was stopped for three minutes after a Harris hawk in pursuit of a pigeon got stuck behind its minute-hand. The hawk swooped down on the pigeon as it was perched on top of the clock, but subsequently became trapped behind the hand and stopped it for 186 seconds. College staff immediately ran out to rewind the pendulum-driven timepiece and were able to return it to motion. The clock has a famously idiosyncratic double chime: every hour, a low-pitched Trinity chime is followed by a higher St John's chime.
Trump dossier spy accused of dirty tricks during Cambridge Union campaign
An acquaintance of Christopher Steele, the spy named as author of a dossier which contained allegations regarding Russian blackmail of President Donald Trump, has claimed that he employed dirty tricks during his campaign to be elected President of the Cambridge Union in 1985. The acquaintance said that Steele had wrongly accused his opponent for the position, Lance Forman, of supporting apartheid. Forman won the vote, but Steele would be elected to the position a year later. Another contemporary said of the Cambridge Union at the time, "it was very spiteful and full of people spreading rumours."