Cambridge alumni shine at the Golden Globes
Three Cantabs won awards for Best Actor, Best Supporting Actress and Best Supporting Actor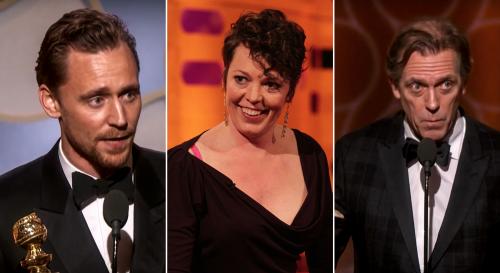 Three Cambridge alumni won Golden Globes in last night's ceremony, with Tom Hiddleston, Hugh Laurie and Olivia Colman all awarded for their work on The Night Manager.
The Night Manager, which aired from February to March 2016, is a six-episode miniseries telling the story of a hotel manager who is recruited to investigate an arms dealer.
Hiddleston received the award for Best Actor in a Miniseries or Television Film for his role as Jonathan Pine, the hotel manager. This was the first Golden Globe for Hiddleston, who matriculated at Pembroke College in 1999, and was awarded a double-first in Classics. Pembroke College congratulated their alumnus on Twitter. 
In his acceptance speech, he described the award as "lovely" and told an anecdote of his time in South Sudan, where, whilst doing humanitarian work, he met a group of medics from Médecins Sans Frontières, who had "binge-watched" The Night Manager during a shelling.
Laurie was awarded Best Supporting Actor in a Series, Miniseries or Television Film for playing Richard Onslow Roper, the arms dealer. He attended Selwyn College (1978), studying Archaeology and Anthropology, and was also made an honorary fellow of Selwyn in 2012. Selwyn College posted their congratulations on Twitter and Facebook. 
In his speech, he joked about Trump's presidency, saying this year's Golden Globes would be the last, as the ceremony has the words "Hollywood, foreign, and press in the title".
During his time at Cambridge, Laurie was an accomplished rower, gaining a blue for participating in the 1980 Varsity boat race. He was also the President of the Footlights. He is famous for the TV series House, for which he was also awarded two Golden Globes, in 2006 and 2007.
Colman won the award for Best Supporting Actress in a Series, Miniseries or Television Film for her performance as Angela Burr, the intelligence operative who recruits the hotel manager. She studied teaching at Homerton College in 1993. Having already won three BAFTAs, this is her first Golden Globe award.
Whilst at Cambridge, she met the comedians David Mitchell and Robert Webb in the Footlights. They have collaborated on many projects, most notably Peep Show.
This was the 74th ceremony of the Golden Globes, and the film La La Land was the big winner on the night, taking home seven awards.