Cambridge cancer scientists get £41 million funding boost
Cancer Research UK has pledged additional funds to support its Cancer Centre in Cambridge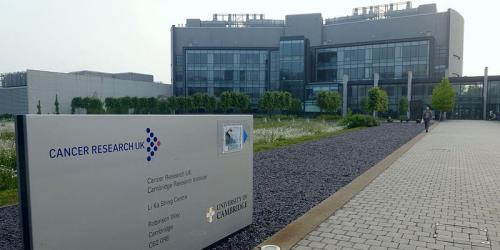 Research scientists working at Cambridge will benefit from millions of pounds of additional funding, it has recently been announced.
The pledge from Cancer Research UK, totalling £41 million over five years, will be invested in the Cancer Research UK Cambridge Centre, where the money will be used to support pioneering work on cancer diagnosis and treatment.
The Cancer Centre is one of a network of 15 research hubs set up around the UK by the charity, with the aim of bringing together researchers, medical practitioners and industry experts on the frontline of research into the disease.
Professor Richard Gilbertson, the centre's director, said: "This is an exciting collaboration of researchers, scientists and clinicians from Cancer Research UK, the University of Cambridge and Cambridge University Hospitals NHS Foundation Trust as well as the pharmaceutical and biotechnology companies across the city. It's an alliance that allows us to make use of a wide range of expertise and techniques that can help progress cancer research and bring benefits to patients sooner. Our mission is to end death and disease caused by cancer through research, treatment and education."
The centre is also one of the University's Strategic Research Initiatives, and involves 607 University members based in 24 departments, including Addenbrooke's Hospital. The Initiatives are set up as a means of facilitating easier collaboration between researchers based in different parts of the University, allowing them to tackle large-scale multi-disciplinary research challenges. 
Speaking exclusively to Varsity, Professor Gilbertson was able to specify how the money would be allocated. One quarter of the money will be invested directly into the 12 programmes pursued by the centre's researchers, which target "eight of the most common and challenging cancers, as well as efforts in cancer imaging, cell and molecular biology, early cancer detection and onco-innovation." Half of the funds will be spent on "critical core infrastructure" including data managers, patients' groups and the collection and processing of tissue samples. 
The remaining quarter will be dedicated to a "completely revamped" PhD programme, which will result in the enrolment of 45 new PhD students. The new programme will take in "new teaching and experiential elements" as well as an initial rotation scheme.
Dr Kenneth Seamon, Director of Scientific Development and Global Collaborations at the centre, elaborated: "One key aspect of the funding is that it will support a significant amount of research that is multidisciplinary and involves investigators from all of the schools.
"The University has significant strengths in the physical, biological, and engineering sciences and this funding will help bring these research investigators together to work on new technological and therapeutic strategies to detect and treat cancer.
"This continues to build on the University's recognition of cancer as a Strategic Research Initiative.  Examples of some of the research supported include new imaging techniques for the early detection of cancer and novel devices for measuring biomarkers of disease in prostate cancer.
 He added: "The funding also supports major investments in infrastructure for the integration of cancer research with cancer care with the NHS by combining new genetic techniques for detection along with new imaging techniques that can both detect and monitor patients through the course of their treatment. 
"This builds on seminal work that has been carried out in the Breast Translational Unit and will be applied to other cancers in the future."
Dr Simon Oberst, Director of Clinical Development, explained to Varsity the centre's precise aims: "One of our strategic objectives as the CRUK Cambridge Centre is to change the way we treat cancer; to move from a reactive system that waits for cancer to present, to a proactive personalised strategy for all patients.
"The strategy is to detect cancer in its earliest form, to intervene very precisely, and to closely monitor the disease with non-invasive technologies which are better for the patient.  
"In order to reach this goal we are investing, with the boost of the CRUK award, in infrastructure and people around diagnostic laboratories and imaging facilities to analyse a person's cancer at a molecular level.  This requires expanding our cohorts of research technicians, pathologists, bioinformaticians, programmers, research nurses and pharmacists.  
"This will enable us to achieve our goal of having every patient in the NHS being diagnosed and monitored at a precise molecular level."
Danielle Glavin, Cancer Research UK spokesperson for the East, said: "This award is a recognition of the fantastic research that's taking place in Cambridge. It's reassuring to know that, thanks to our supporters, Cancer Research UK is able to fund some of the best and most promising research in Cambridge that will help more people survive."
Professor Gilbertson said that the funding of charities like Cancer Research UK was "critical" to the work of the University's research institutions. According to him, such funding "provides key infrastructure", without which "the cancer centre wouldn't exist".