NUS delegates: Meet the candidates
After a controversial year for relations with the NUS, meet the students vying to represent the University at its national conference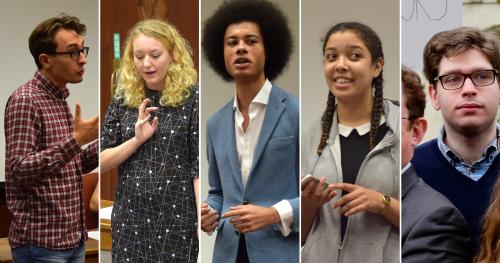 After a controversial few months, from today Cambridge students can now vote to pick their new National Union of Students (NUS) delegates, who will go to NUS conference to vote on policy and leadership.
The next NUS National Conference will be held in late April 2017, but elections for delegates from Cambridge are beginning almost six months in advance. This year, there are five candidates running in the election – three experienced NUS delegates, one veteran election contestant, and one running on a platform of reform.
There are six places available for the group Cambridge sends to Brighton this year, one of which will be occupied by default by CUSU President Amatey Doku. The group has to be gender balanced, with at least two members who self-identify as women. For that reason, the three male candidates – Josh Jackson, Joe Toovey and Jonty Leibowitz – are in competition for two places, while the self-defining women – Roberta Huldisch and Eireann Attridge – only have to beat the re-open nominations (RON) option.
It is likely a bye-election will take place next term to decide the final self-defining woman candidate.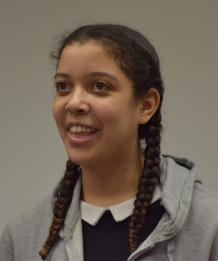 Voting takes place via CUSU's online portal, and will run until 12:00am on Friday.
The Candidates
Eireann Attridge
Eireann Attridge is CUSU's current Access & Funding Officer, having been elected to the position in February this year. Although she states that she "wasn't involved or up to date on the NUS until last year's referendum", she runs from a position of relative experience; holding a CUSU sabbatical role necessitates working with the NUS, and she was elected to the organisation's Higher Education Zone Committee earlier this month. Indeed, along with accurately representing the views of Cambridge students, protecting higher education from what she sees as "damaging changes" is a key point of her policy.
When asked what in her view the NUS most pressingly needs to tackle, she says that "the Teaching Excellence Framework (TEF) proposed in the Higher Education Bill is rightly at the forefront of the issues being addressed by the NUS." Participation in the bill will allow universities to raise tuition fees in line with inflation from next year.
As someone who believes education shouldn't be determined by your socio-economic background, I recognise that potential applicants are likely to be put off going to university because of such fees."
Indeed, she has also expressed her support for the NUS's current policy in favour of free further and higher education – although she recognises that this is a "long term goal". In the meantime, she says, "there's still work that can be done in order to work towards this such as reintroducing maintenance grants for students".
What she can bring to the conference as a representative of Cambridge students is, it seems, a real drive towards improving access not just within the University, but as part of a body with national scope. At the two conferences she has attended since starting her role at CUSU, she says that she has "learned more about the national picture of higher education and the way in which different issues affect different types of higher and further education institutions.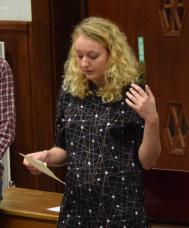 "I've benefited from learning about these differences and want to work towards collectively addressing them with other student representatives."
Roberta Huldisch
Roberta Huldisch, like Attridge, works on the CUSU Sabbatical team, as the Education Officer. Similarly running from a position of experience, she was also a delegate at the last NUS National Conference, at which Malia Bouattia was elected this year's NUS President. When asked what her views were on this controversial event – which precipitated Cambridge's disaffiliation referendum, among many other universities' – she states that she did not vote for Bouattia at last year's conference.
"I did not feel comfortable supporting her when a large portion of the students I was representing expressed concern at the anti-Semitic language she had used, felt unsafe because of it and were unsatisfied with her response," she explains. "I agree with many of Malia's policies, for example her practical support for students who are illegally deported or at risk of deportation. However, I am still waiting to hear an unconditional apology from her and I'm not convinced that she has fully listened to and understood Jewish students' concerns with her past comments."
A focus on internal conflict within the NUS seems to be one of her key priorities. She, too, views the "drastic restructuring" of the higher education sector as one of the most pressing issues facing students currently, and feels that the NUS should make a greater effort to communicate the successes it has had in facing the government to students through a national campaign and through better supporting students' unions that are trying to mount their own campaigns at a local level.
She also states that she will support policy on "liberating the curriculum, making education more accessible, protecting EU and international students (as an EU student myself), sexual harassment in universities", as well as "making the NUS more democratic". However, she argues that "in order to work effectively...the NUS also has to take a hard look at its internal democratic structures and its divisions."
As an experienced delegate, she says she has "a thorough understanding of how NUS works, and a lot of thoughts on what doesn't work" and wants to use this experience to "support and inform" other delegates.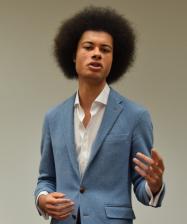 "I want to try and practically address harmful factionalism within the organisation for example by mandating NUS to provide better campaigning support to independent candidates for full-time officer roles. I want Cambridge students to actively feed into a reform of NUS democracy."
Josh Jackson
Josh Jackson is a second-year HSPS student at Queens', and is known perhaps for his extensive experience in electioneering, his photoshop skills, and his fervent supporter "Lando" who frequents Tab comment sections. Most notably, he ran for (and lost) the role of University Councillor in February, but has also stood as a candidate for positions on the committees of the BME Campaign, Cambridge Universities' Labour Club, the Cambridge Union Society, and the HSPS department – among others. Despite this, he is new to the NUS, and in fact states this as an advantage; he believes "we can't change NUS until we change the type of people we sent to NUS."
Characteristically, he has also expressed many thoughts on any and all issues relating to the NUS. As part of his signature campaign materials, he has included "5 Pledges for an Open and Liberated NUS Agenda": "a free education system", "protect the rights of EU students", "mental health and disability rights", "oppose further cuts to education", and "act to end racism and injustice." When asked what he feels is the most urgent issue for the NUS to face, he picked out "protecting the rights and freedoms of EU students and internationals to study in this country without infringement in the wake of Brexit."
"EU students are under increasing uncertainty over their status," he explains, "many feel abandoned and betrayed by this government who they've paid for their education here."
Prevent, too, he describes as an issue "close to [his] heart". "As a person of colour," he claims he has "been involved in conversations up and down the country about the impact Prevent has had on communities of colour, especially Muslim communities.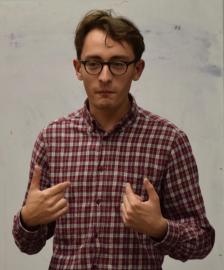 "I'd stand up for our communities of colour in Cambridge in opposing the imposition of Prevent and delegitimising it."
Jonty Leibowitz
Jonty Leibowitz, too, is new to the NUS. He is a third-year History student at Sidney Sussex, and says that he has decided to run for election as NUS delegate because he fears that "this is the last chance for the NUS to rid itself of the scourge of anti-Semitism".
"Over the last year," he explains, "Jewish students up and down the country have been made to feel as if they are no longer welcome in our student politics. I'm running because I think we need Jewish students to engage with NUS politics, and stand up against this particularly hateful form of discrimination."
Indeed, when asked for his opinion on current NUS President Malia Bouattia, he states that although he believes she is a "great campaigner", "her language and tone on anti-Semitism is worrying".
"It cuts to a broader issue, which is that Jewish students worry that the current leadership team aren't taking their concerns seriously. The response of senior NUS members to the Home Affairs Select Committee Report was appalling. I agree with Malia on so many issues, and think that she is a talent politician and leader. All I ask is that, as a Jew, I am made to feel welcome in my own student movement."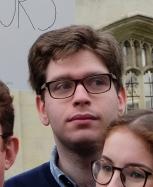 However, his campaign is not limited solely to this issue. "In a wider sense," he says, "the NUS needs to show students that it is relevant to their worldview. Student politics needs to be for all students, not just a narrow clique. A good opportunity is Brexit; the NUS should be showing leadership on standing up for EU students, against the hate entering our politics, and defending HE institutions." And unlike the other candidates for delegate, he expresses some reservations about the NUS's support for free higher and further education; he states that although he supports resistance against marketisation of higher education, he likes the idea of "means-tested" fee abolition, "in which people who can afford to pay, should pay".
Joe Toovey
Joe Toovey, a Law student at Trinity College, is another candidate who has experience with the NUS. He attended the last National Conference as a delegate despite coming fifth – after RON – in first-choice votes during the last election, after the third-placed candidate withdrew from the race. This year, as with last year, he campaigns on the key point of representation, and says he is "extremely pleased" that the elections have been moved forward this year. 
"A lot of my platform isn't really about what I as an individual will do at Conference, but how I can empower all of Cambridge to make their views known to our delegates before Conference starts," he explains. "I want to ensure that motions are circulated at the first opportunity to stakeholder groups to seek advice on amendments and what to support in the motion priority ballot, and to see Cambridge submitting motions of its own and working with other universities to see them supported in debate and protected from hostile amendment in the compositing stage." 
This is not to say that he doesn't himself hold strong views on how the NUS should operate. He supports their stance on free education, and says he is "resolutely opposed" to Prevent. When asked about Malia Bouattia's NUS Presidency, he states that at the last conference he gave her his last preference, arguing that her "consistent refusal" to back down from comments that amount to "Jews-control-the-media conspiracism" undermine "her ability to claim to represent a united student movement". 
Like the other candidates, he questions a clear divide between "student issues" and issues of wider society; however, he describes the state of debate over national issues at Conference as "as much about winning ideological arguments as it is about sincerely trying to address students' problems", and feels that "the degree of political factionalism within the NUS is one of the biggest factors alienating students from their union". 
This, he says, is one aspect of what he believes should be the NUS's highest short-term priority – "building its credibility and support among students with campaigns that 'cross over' between student and national political issues". He uses the example of a "broad campaign on student mental health issues", building on work the organisation has already done, as something that could be successful in "showing students that the broader lobbying and political work done by the NUS can serve in their interests instead of being an ideological overreach".
Correction: This article initially incorrectly stated CUSU sends five delegates — there are in fact six.