End of TCS print edition as CUSU ratifies budget
CUSU Council votes to accept a budget which kills print edition of paper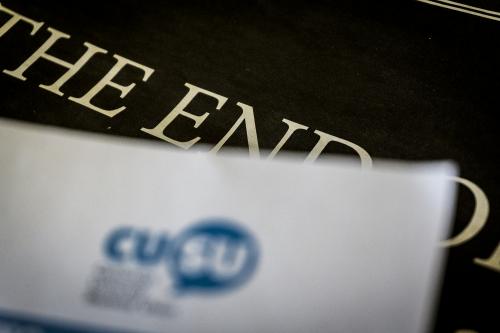 The fate of The Cambridge Student was finally decided tonight in a vote on CUSU's 2016/7 budget. The budget was passed with 24 votes for, 13 against, and 3 abstaining, deciding, amongst other things, to bring an end to the TCS print edition.
There was intense debate over TCS's destiny earlier in the evening, leading to a tie in a vote on an emergency motion which would amend the budget in order to fund a more limited print edition.
The decision was immediately condemned by the Student Publication Association (SPA), who said in a tweet "We are tonight condemning @CUSUonline for the actions they have taken over @TCSNewspaper.".
In a statement Dan Seamarks, SPA Chair, said: "We are tonight condemning CUSU for the actions they have taken over The Cambridge Student."
"Let me be clear," he said "This decision is appalling. The Student Publication Association tonight stands with the Save TCS campaign. We are sorry that their handwork, dedication and passion for student media has been ignored."
The first vote was a 17-17 tie, which changed to 18-18 after a recount. After a short break, another vote was taken by secret ballot, which saw opposition to the amendment rising to 20 votes, with support remaining the same.
The current TCS Editor-in-Chief and its Associate News Editor, Amelia Oakley and Stevie Hertz, presented the motion that resolved to save TCS's print run by increasing the production and distribution costs budgeted in CUSU's prospective budget by £5,000.
The money for this increase would be raised by revising TCS's projected sponsorship and income from £11,000 up to £14,000.
It also resolved to decrease the amounts allocated in CUSU's 2016/17 budget for TCS's website maintenance by £2,000, the editorial and administration costs by £840, and the Council Free Budget by £2,000.
The motion was met with opposition by Graduate Union President, Chad Allen who said that "going online would make TCS a better paper" and that in a competitive online student press environment, it was no longer viable for TCS to "print old news on dead trees." He later said the motion was "only delaying the inevitable".
CUSU President Priscilla Mensah also waded in, urging students not to vote for the motion. Mensah argued that they had to focus on the core objectives of the student union, saying "we are not people that do not like print journalism".
But TCS's Stevie Hertz made an emotional plea to councillors, arguing that the newspaper was "beloved by hundreds of students across Cambridge" and claiming: "we're not going to cost you anything".
An amendment to only increase the production and distribution costs by £3,000 was voted down, with many members of council either abstaining or voting against the amendment outright.
With the emergency motion failing, CUSU Council proceeded to ratify CUSU's budget, confirming the sweeping cuts to TCS.