Cambridge has taken in fewer than 10 Syrian refugees
Councillor Lewis Herbert has admitted that the number seeking accommodation in Cambridge was lower than expected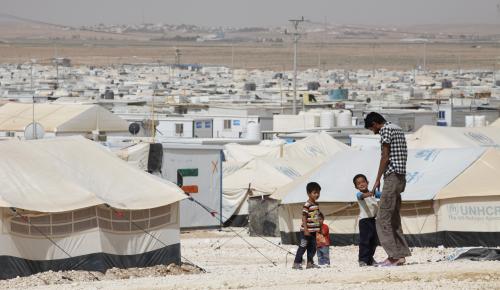 It has been revealed by the City Council that fewer than 10 Syrian refugees have been housed in Cambridge.
Lewis Herbert, Leader of Cambridge City Council, admitted that, despite a prior commitment to and preparations for housing a minimum of 50 refugees, a smaller number than expected have arrived seeking accommodation in the City.
He said: "The actual number of Syrian refugees we have is small; it's under 10. The number is small compared to other parts of Britain and we are keen to understand the issue."
Councillor Herbert claimed that the situation was due to the Home Office, which is currently responsible for resettling 20,000 refugees as part of the Vulnerable Person Relocation (VPR) scheme, was simply not sending them to the city; he believes the reasons for this "could be the cost of living or a lack of housing", but added again that they were still "keen to understand the issues".
This is despite a number of campaigns within Cambridge set up in order to help refugees, such as the Cambridge Refugee Resettlement Campaign (CRRC). According to Camila Iturra at the CRRC, the situation is "very frustrating" because "we have 3,000 properties standing empty", although this figure includes properties that are privately owned by landlords, as well as council houses.
"We have so many people willing to help", she added. "The city has the resources to help. I don't think the Home Office is listening to the people of this country or this city on this.
"Plenty of people are coming forward to help. We are ready."
Leonie Anna Mueck, also from the CRRC, shared this sentiment, revealing that there are more volunteers offering to help than there are refugees.
"This is a very low number [of refugees], especially when we look at other places," she said. "Cambridge is a rich city that can welcome more people. That is the message we want to send to the Home Office. There is a wonderful bunch of people in Cambridge eager to give sanctuary."
At a council budget meeting on Monday, Councillor Herbert suggested that a small grant of "a couple of thousand pounds" should be given to the Cambridge Ethnic Community Forum, a local charity, to find answers to the questions of "what the city could be doing better and why we have so few [refugee families] at the moment."
He added: "We [the City Council] can help when we are asked but we specifically need to understand what people's needs are so we can properly address them. We want to work with the Home Office and will continue to help them."
A spokesperson for the Home Office said that "there has been a tremendous amount of goodwill from local authorities and the private, non-governmental and voluntary sectors as well as from individuals across the UK." They added: "We are very grateful for Cambridge City Council's support and will continue to work with them to identify further opportunities to resettle [refugee] families as part of the VPR scheme."