Interview: Dirty Hit Tour
Following a sold out show at The Portland Arms, Lottie Reeder and Alex Bolot talk to Beabadoobee, Oscar Lang and No Rome at the beginning of the Dirty Hit Tour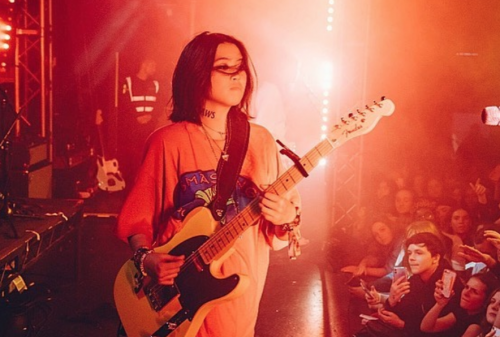 Beabadoobee
I read that you were inspired by film soundtracks, could you explain a bit about that?
B: I like the fact that you can attach a song to a certain scene and you can imagine so many things just from listening to a piece of music. I think that's what I find so interesting about soundtracks. Like Good Will Hunting's soundtrack is fricking amazing, and obviously the Juno soundtrack with Kimya Dawson who I think is a genius. When you think of Treehouse by Kimya Dawson you automatically think of that movie (Juno), and I think that's really cool.
If you could pick one film that your music would be the soundtrack of, which film would you pick?
B: Hmmm… probably a coming of age movie like 20th Century Women or Ladybird. Or probably another Scott Pilgrim… that would be sick. Anything with Michael Cera in it, basically!
How do you come up with your art ideas?
B: So I think a lot of it comes from the music I listen to and the people I look up to, such as Pavement and Miki from Lush. When it comes to shooting music videos, I like collaborating with my boyfriend and his best friend to come up with really cool ideas. I also work with Elliot Bech who does all my merch and the cover art for my music, who's super cool!
What's the inspiration behind your music videos?
B:  Me, Soren and Amir always think of ideas together and we all have the same exact film taste, and we're all inspired by the same things. I really trust their opinions, they trust my opinion so we kind of base it off each other. They're very conceptual so they always think of the storyline within the music video.
Where do you see your music and creative ideas going in 2020?
B: I think I'm going to branch out more. My discography goes from Patched Up to Loveworm to Space Cadet and they're all completely different EPs. I think I want to mush them all together and create this journey in an album, because obviously right now i'm in this kind of phase, a Space Cadet era, and there are loads of people who miss my acoustic stuff, but I also want to go full on crazy and do band-y shit, so I'm just gonna do a mixture of everything.
How has your music and identity as an artist developed from your new release, Space Cadet? 
B: I think I had the same influences from Patched Up when I did Space Cadet but i guess when I was starting out I was used to playing my acoustic guitar in my bedroom by myself. I managed to get the resources and my band together and got this opportunity to record in a studio with a producer, that's when I was like 'Ok, let me start making the music that I've always wanted to make', like music that people can vibe to. Each year I've had a very distinctive phase, and I think Space Cadet was the blue hair phase where every song was pretty vibey. 
Who are your music inspirations?
B:  Elliott Smith, Daniel Johnston, Kimya Dawson are probably the people who have inspired me to actually make music. In terms of the type of music I make, I have a lot of influences, I know I talk about Pavement a lot but I just really like the guitar tones and the way he plays… it's such a distinctive style and that has kind of inspired me to develop my own distinctive style and be myself. I didn't have any guitar teachers… but it's my own way of doing it.
You're going on tour with The 1975, how are you feeling about that?
B: Yeah…. I can't lie, I'm shitting myself. I'm really excited and really grateful but also terrified. Being 19 and getting thrown into playing arenas is crazy. It's exciting as fuck and I hope people vibe with it and appreciate that I'm doing it at my age. But I'm fucking excited, it's such an experience! 
How did you get signed to Dirty Hit?
B: I released music with Oscar Lang, I used to record stuff in his bedroom. We didn't really expect anything of it, but these labels started getting interested, and that's how it really happened. I initially saw it as a side thing, as I really want to be a nursery teacher! When I got signed Oscar got signed very soon after, I think he's a very talented guy, he's helped me put my music online. At the beginning he was like my lawyer/manager/person putting everything online/everything!
What's your dream venue?
B: This beach hut in Boracay in the Philippines. I'd love to play there as you can just see the sea, right in front of you. I went there with my family and my boyfriend and was like 'imagine playing here'. I wish!
Who's your style icon?
B: I wouldn't base my style on anyone in particular. Anything that's clean and smells alright! I do look into inspiration from Stephen Malkmus and bands from that decade like Miki from Lush, I mean I dyed my hair red to look like her! Super laid back shit!
What advice would you give to someone starting out making music?
B: Do music because you love music, not because you expect anything in return. Keep creating and keep getting inspired, go out of your way to find things to inspire you.
What inspires you apart from film?
B: Loads of my music influences, my boyfriend, my friends, my past experiences growing up, everything I go through right now. Music is a good release for me, every time I feel shit I write a song and feel ten times better after because I get gassed about the song! I do it for myself really, but if people fuck with it and get it and understand and it helps them, then that's just like, you know, win-win
How do you want people to respond to your gigs?
B: I just want them to have fun! If you wanna go and get fucked, if you wanna go and just vibe and chill just do whatever you want! I want people to feel really comfortable and feel like they can make friends in the crowd. This is our first headliner back in the UK and me and the band have been so used to playing shows in the US, so I don't know what this is going to be like! I'm nervous to see if people fuck with it! And hopefully it will be OK.
Where are you most looking forward to playing on this tour?
B: I'd say Bournemouth, loads of my friends go to uni there. And Brighton, and Cambridge! 
Who would be your Desert Island Discs (one song, one album, and one artists discography )
B: I never get tired of Spit on a Stranger by Pavement. K's Choice, Almost Happy. Good Morning.
Oscar Lang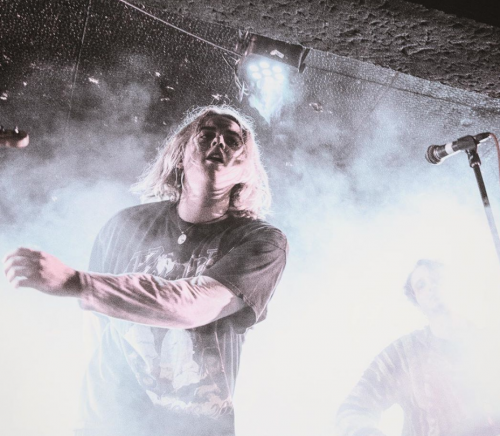 Your music has often been labelled as part of the DIY/ bedroom pop movement. Could you tell us a bit about this?
O: It's weird because a lot of people talk about it like it's [bedroom pop] an intentional thing that people do, but a lot of the lo-fi stuff that I made back in the day that's considered 'bedroom' literally just came from the fact that we didn't have a studio to use or anything! I had this little 8-track digital thing that I started making tunes on. It was never intentional to get that lo-fi sound!
 So what programmes did you use to create your music?
O: So I had the 8-track digital mixer, then when I was doing music tech at college, I realised that I needed to start recording onto a laptop when I started to learn Logic. When I was 13 I used to bang out Garageband all the time, and Logic is similar to Garageband so it's super easy to learn. But I need to learn more software because there's so many and I really want to learn Pro Tools.
Who are your music inspirations?
O: There are so many! I was thinking about this the other day and I couldn't name one because I listen to a weird selection of music, like I was listening to Swan Lake the other day and next up was Rage Against the Machine, so I can't really name one thing that's been an influence. I'd say that the stuff Mac DeMarco and Kevin Parker were doing, cos I would always watch YouTube documentaries like 'behind Kevin Parker's music'. It showed that he did it all himself and I was taken aback because I thought Tame Impala was a full band! So yeah, those guys inspired me to do it all myself.
The music video for your track 'Hey' is very psychedelic and creative. What inspires your music videos?
O:  Someone put it perfectly in a comment. It said:
The director: "How many effects do you want?"
Oscar: "Yes".
That's basically what it was, I just wanted something that looked really cool and that I could watch and be like 'woooow looks really cool'. The track's really light and bubbly, so I wanted to do something fun.
 Do you have an aesthetic that you're going for?
O: I don't know. I am a big fan of aesthetic. I love to play Sims and spend hours designing houses. But I don't have an aesthetic I guess, the self-produced bedroom pop kid?
Where would be your dream venue to play?
O: I really want to play O2 Academy Brixton, just cos I've seen so many gigs there. We played Moth Club, which was one that I really wanted to play in London because I've seen a bunch of acts that I love there, so it felt like an honour to play there. But, O2 Brixton is the one where I'd be like yeahhh. I've made it.
What's the best release of 2019 in your opinion?
O: There's a record that a guy called Luke Temple put out - I listened to it last week and it was amazing!
How did you get signed by Dirty Hit?
O: I was working with Bea doing the production on her Patched Up EP and I guess the Dirty Hit guys knew me through that. When we started working on Bea's stuff it was just me and Bea doing it, I was kind of a weird half-manager, like I set up the Spotify and Soundcloud, went into her meeting with her at Dirty Hit… and yeah they knew me through that.
How did you get into the position to do that?
O: I met Bea through a mutual friend at my school, and she heard my music and then we started chatting. She was talking about her boyfriend Soren and how he makes music videos, and we went to film a video for the song Teenage Hurt. It's a super depressing music video that never came out, but it was like super home-filmed, we did it all in one day! I met her through that and then I heard Coffee on a live-stream, and she said she wanted to do some recording and I said I could help her out because I had an 8-track mixer. We recorded Coffee on the second take, and that track blew up and now here I am!
It must be so nice to have that friendship… 
O: Yeah, it's crazy that we've both ended up signed to the same label! It's only been a year and a half as well!
Where do you see 2020 taking you and your music?
O: Releasing new music that I've always wanted to release. I love all types of music and the indie-synth stuff is the stuff I can do at home because I can do the software. But I've always wanted to do some 60s psychedelic stuff so now that we've had the studio I've been able to do that. I'm excited to release that music next year. And then tour it and play it everywhere, I just want to play it as much as possible.
Who would be your Desert Island Discs (one song, one album, and one artists discography )
O: Rich Girl by Hall & Oates, The Beatles and Caramel by Connan Mockasin
What advice would you give to someone starting out?
O: A lot of people do it to get signed. I'd say do it 'cause you love it. I do it as a hobby and I get lost in it and I can't stop doing it! Just do it for that, don't try and seek out fame, just do it because you love it and hopefully people will come.
No Rome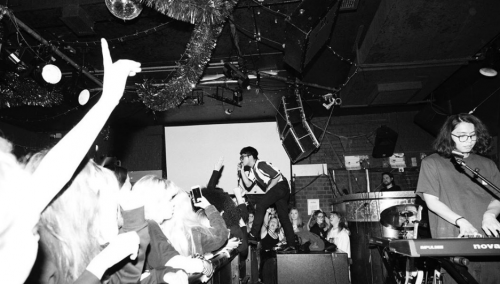 Where do you see 2020 taking you and your music?
NR: I've got two projects next year that I'm really excited about. I'm gonna drop this last project that I've been working on since August, since the American tour with The 1975, I started working on this mix-tape, which I'll be dropping next year. Then, my debut album!
You have really strong and energetic live performances. What is the inspiration behind that? What is the experience that you would want people to have at your gigs?
NR: For my kind of music and the stuff that I write, it feels like it's just about having fun and being in this space with people who share the same interests and just gathering together and having fun with the music. I used to grow up watching talk shows and gigs… I'd never been to a concert even before I started playing, so that's what I always knew how to perform and watching hip-hop artists performing, I just thought 'why don't I perform my music like that'.
What would be your dream venue to play?
NR: I'd say Madison Square Garden just because … who doesn't wanna play Madison Square Garden! I wanna do El Rey in Los Angeles, a lot of my heroes started doing shows there so it definitely feels like a dream for me!
Where do you draw your creative inspiration from? Who inspires you to make music?
NR: I like a lot of the post-punk era, people like New Order, David Bowie. Those are the people who started to get me into music. Blink 182, Notorious B.I.G - those were the people I was looking up to like 'woah', these are like icons, legends. I'd pick them up from cousins or friends who'd show me their music. I didn't really have a lot of access to music because I was raised in a Christian family, so I was only allowed to listen to Christian music. Those artists really inspired me to make something, start something. 
Who would be your desert island discs (one song, one album, and one artists discography)?
King of Limbs- Radiohead, Radiohead, SWV- Coming Home
What advice would you give to someone starting out making music?
NR: I think just be creative and learning to love your art. I think that's what I can say.