With Ghosteen, Nick Cave navigates the landscape of grief and finds new hope
Nick Cave's intimate portrayal of grief and healing is some of his most moving work to date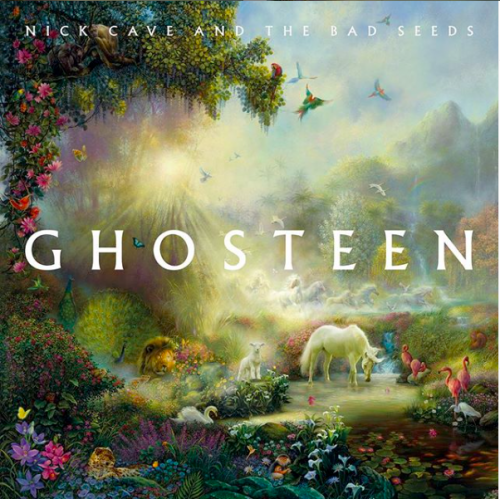 Although Ghosteen is not Nick Cave's first album to be released following the death of his son, Arthur, in 2015, it is the first to explicitly confront the tragedy. In his latest project with the Bad Seeds, the king of gothic rock delivers an album that is simultaneously heartbreaking and hopeful as he explores his grief through dreamlike, synth-heavy soundscapes.
Over the course of 11 songs, Cave's grief manifests in a series of haunting, apocalyptically gorgeous landscapes. In 'Sun Forest', he paints a picture of a garden that could be Eden, or heaven. Yet the beauty seen here has a melancholic quality: we see burning trees, fields of smoke, and black butterflies. We are reminded that such a paradise can only be reached through death. It seems that, for Cave, there is hope to be found in the concept of an afterlife, but it is a hope tinged with sorrow.
Acting as a kind of spirit guide as he traverses his thoughts in search of peace is Cave's son, who appears as the little white shape dancing at the end of the hall. The notion that the person who aids him in his navigation of his grief is the very person who he has lost is incredibly poignant. Throughout, there is a sense of the tug between Cave's conflicting wishes to have his son back and to let him go.
"Nick Cave may not have found peace just yet – but he has found hope."
We feel the ache of this separation all the more keenly thanks to Cave's unusually subdued vocals. On 'Hollywood,' his wavering falsetto suggests barely contained anguish, while the wry tenderness with which he delivers the refrain yeah, I know on 'Night Raid' conveys the bittersweet nature of memory. Half singing, half talking, he adopts an almost conversational tone and, as a result, we become not merely observers but his companions on this journey.
If the vast, mythological settings of songs like 'Sun Forest' and 'Bright Horses' reflect the enormity of grief, it is in the smaller, more intimate scenes that Cave most effectively conveys its inescapable reality. With the titular track, 'Ghosteen,' we get a frank depiction of the domesticity of grief. We are drawn right into Cave's home as he zooms in on a single, devastating image, singing: You're in the back room washing his clothes / Love's like that, you know. A mundane act becomes gut-wrenchingly tragic under the magnifying lens of loss. You can't escape grief when it lives where you live.
Yet the omnipresence of loss is also, curiously, presented as a source of consolation. In the final song of the album, 'Hollywood,' we are told the story of Kisa, a grieving mother who seeks help from Buddha. He tells her that her baby will be saved if she can collect a mustard seed from the house where no one has died – but there is no such house. Here, we perhaps see Cave reach a kind of conclusion. Grief may be overwhelming, and complex, but it's an experience we must all endure at some point – that makes it slightly easier to bear. Though his pain is still raw and his quest for healing unfinished, Ghosteen ends on a cautiously optimistic note as Cave sings: And I'm just waiting now, for peace to come.
We are left with the sense that, with Ghosteen, we are sharing in a process of rebirth. Nick Cave may not have found peace just yet – but he has found hope.